EN1522/3 FB2 Bullet Resistant Heritage Door
The EN1522/3 FB2 Heritage door below is specifically tested against a 9mm calibre weapon, a Luger. As you can see from the table below there are many comparisons to the NIJ and UL test standards. For more information on the complete range of test standards, including EN1522/3 please see our technical specifications section.
Class Threat Level

Type of Weapon

Calibre

Ammunition

No of shots

Velocity (m/s)

Test Range (m)

Spacing (mm)

EN1063 BR2

Handgun

9mm

FJ1/RN/SC

3

400+/- 10

5

120+/- 10

NIJ 0108.01 Level II-A, II and IIIA

Handgun

9mm FMJ

FMJ

5

332+/- 12

358+/- 12

426+/- 15

5

N/A

UL 752 Level 1

Handgun

9mm x 19

FMJ LC

3

358-394

4.6

N/A
Architectural Armour are able to offer Heritage Style Doors in both internal and external options. They are, like all of our products bespoke and manufactured in the UK. If you have a project that would benefit from such items, please do not hesitate to contact our offices on +44(0) 1981 257000 or mailto:info@architecturalarmour.com. To download the PDFs below, please click on the image below.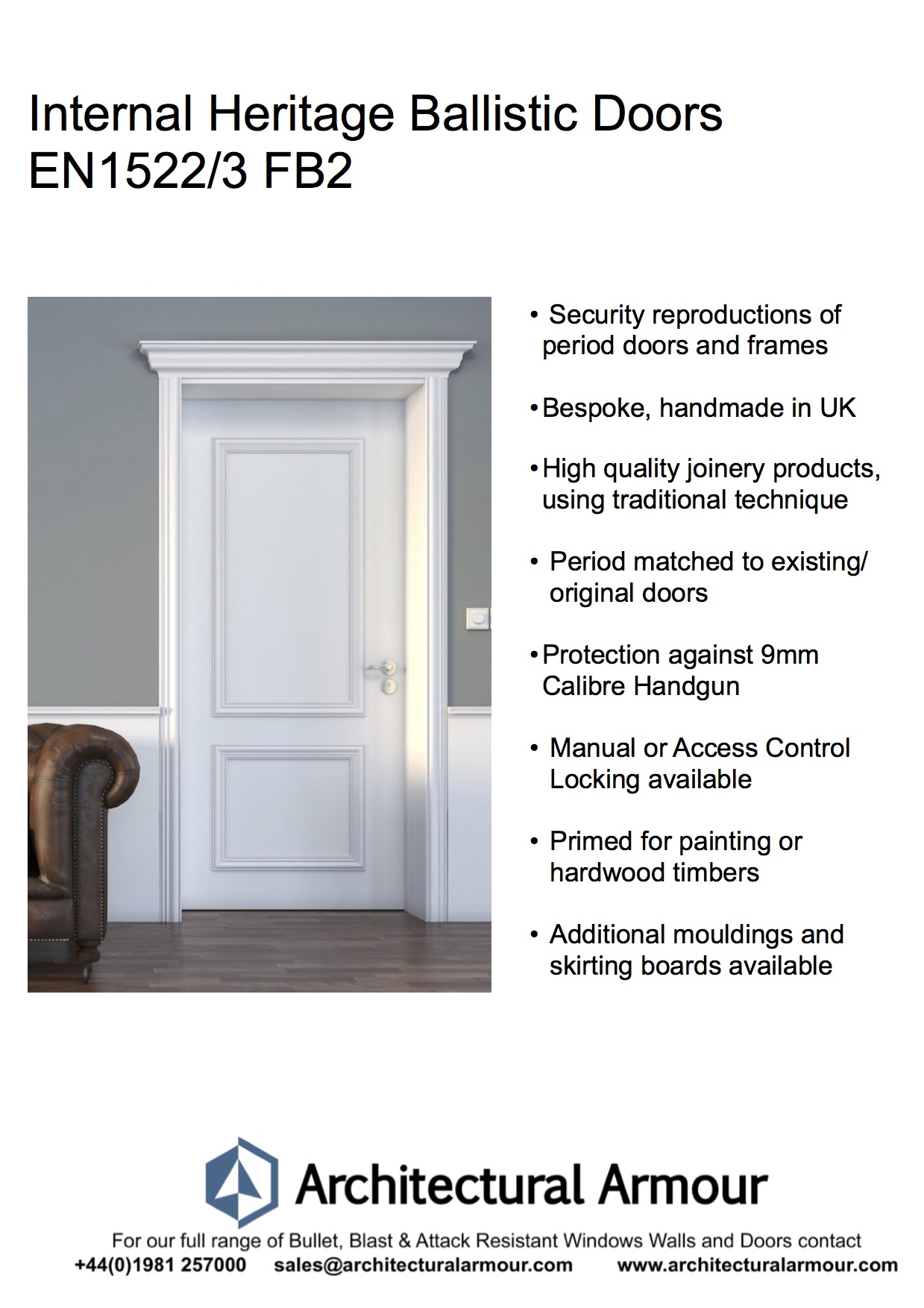 We also have other EN1522/3 rated timber bullet resistant doors, including FB4 and FB6. To read more on our bullet resistant doors, please go through to our bullet resistant door page.
For our full range of security doors head back to our security door homepage.