CASH SCOOPS AND TRAYS
Architectural Armour manufacture a variety of Cash Scoops and Dip Trays which are competitively priced and available from stock in 5 different models;
Cash Scoops; Portrait, Landscape and the larger Cash and Document Tray (Shallow Tray).
Cash Trays; Combination and Deep Tray, complete with Locking Lid
The Cash Trays are deeper than the Scoops, allowing the transfer of small packets and goods in addition to cash and documents between the secure staff side and the public side.
All are manufactured from brushed stainless steel to produce a robust maintenance free product for passing money and documents. These pass through trays are all suitable for use with indoor Security Counters and Screens, and can accommodate almost any thickness of screen glazing.
We also offer an Audio Tray and Ballistic (FB4) Transaction Tray offering the added benefit of integrated audio and bullet protection in higher security applications.
For more information please click on the images below or contact our office on +44(0) 1981 257000 or mailto:info@architecturalarmour.com
CASH SCOOPS
The Cash and Document Tray pictured below is featured in our Attack Resistant Transaction Windows, Model SW1.
Portrait Cash Scoop
250mm wide x 290mm long, Pass Through: 220mm x 25mm Full Product Details

Landscape Cash Scoop
330mm wide x 280mm long,Pass Through: 290mm x 36mm Full Product Details

Cash and Document/Shallow Scoops
370mm wide x 420mm long, Pass Through: 320mm x 24mm Full Product Details

Where the requirement is to passing larger items such as Cash in Transit boxes, Architectural Armour Ltd have a range of Secure Cash transfer units including an Electric BTU.
Architectural Armour Ltd are happy to supply these trays for sale to incorporate into your own Security Counters and Screens or as part of our own security window designs.
In addition to these and our other standard items we can manufacture trays to your own bespoke requirements.
CASH TRAYS
Combination Tray
The Combination tray in its normal closed position enables the transfer of cash and documents across the recessed sliding lid. The staff have the ability to lift and retract the lid to reveal a larger void below, which is suitable for transferring packets, small goods and larger documents.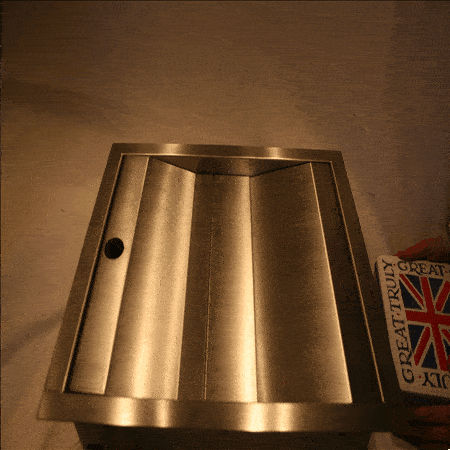 To view the Data Sheet on the Combination Tray, please click the link

The Combination Tray pictured above is also featured in our Cashier Window Attack Resistant Transaction Windows, Model SW2.
Deep Tray
The Deep Tray has the same external dimensions as the Combination Tray but has a flat locking lid rather than a recessed one. It was principally designed for passing goods and cash between internal and external applications, the lid can be locked in the closed position for security, also minimising draughts.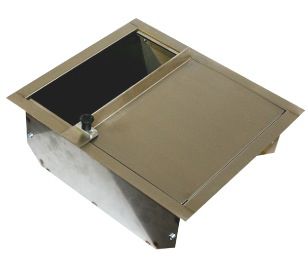 For more information, including dimensions, please click the link to the Data Sheet

As with the cash scoops, where there is no natural speech path between staff and customers we offer the Audio Transfer Tray as well as the Electronic Speech Transfer System, which can be retro-fitted to our cash scoops or your own transfer trays. If you require bullet resistance we can also offer a Bullet Tray. For more details on the range of products we offer or pricing, please contact our offices on +44(0) 1981 257000 or mailto:info@architecturalarmour.com
EN1522/3 FB4 Rated Transaction Tray
Suitable for cash desks. Intended for indoor use, applications such as banks, data centres and other cash/security areas.
Tested to EN1522/3 FB4 classification. Manufactured from steel. The cover frame and counter moving cover plate are lacquered with RAL 9005 Jet Black as standard. Stainless Steel Finish also available at additional cost.
Manual operation the money carriage and counter cover plate lock in their end positions. Pushing the slide control next to the handle allows for unlocking. To review the data sheet please click here

Outer dimensions; W x H x D = 550mm x 141mm x 500mm
Inner clearance; W x H x D - 384mm x 86mm x 274mm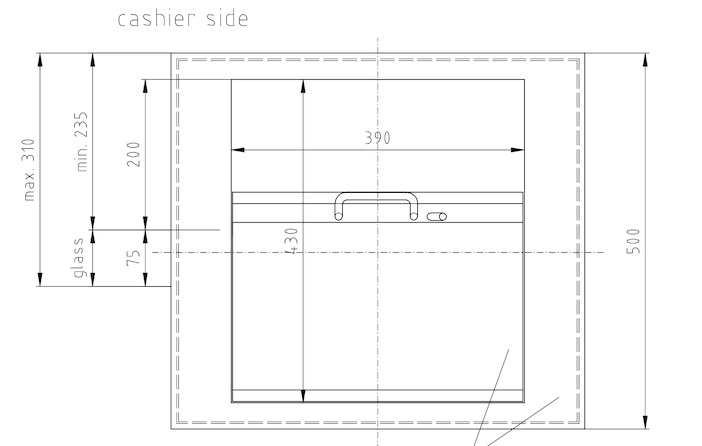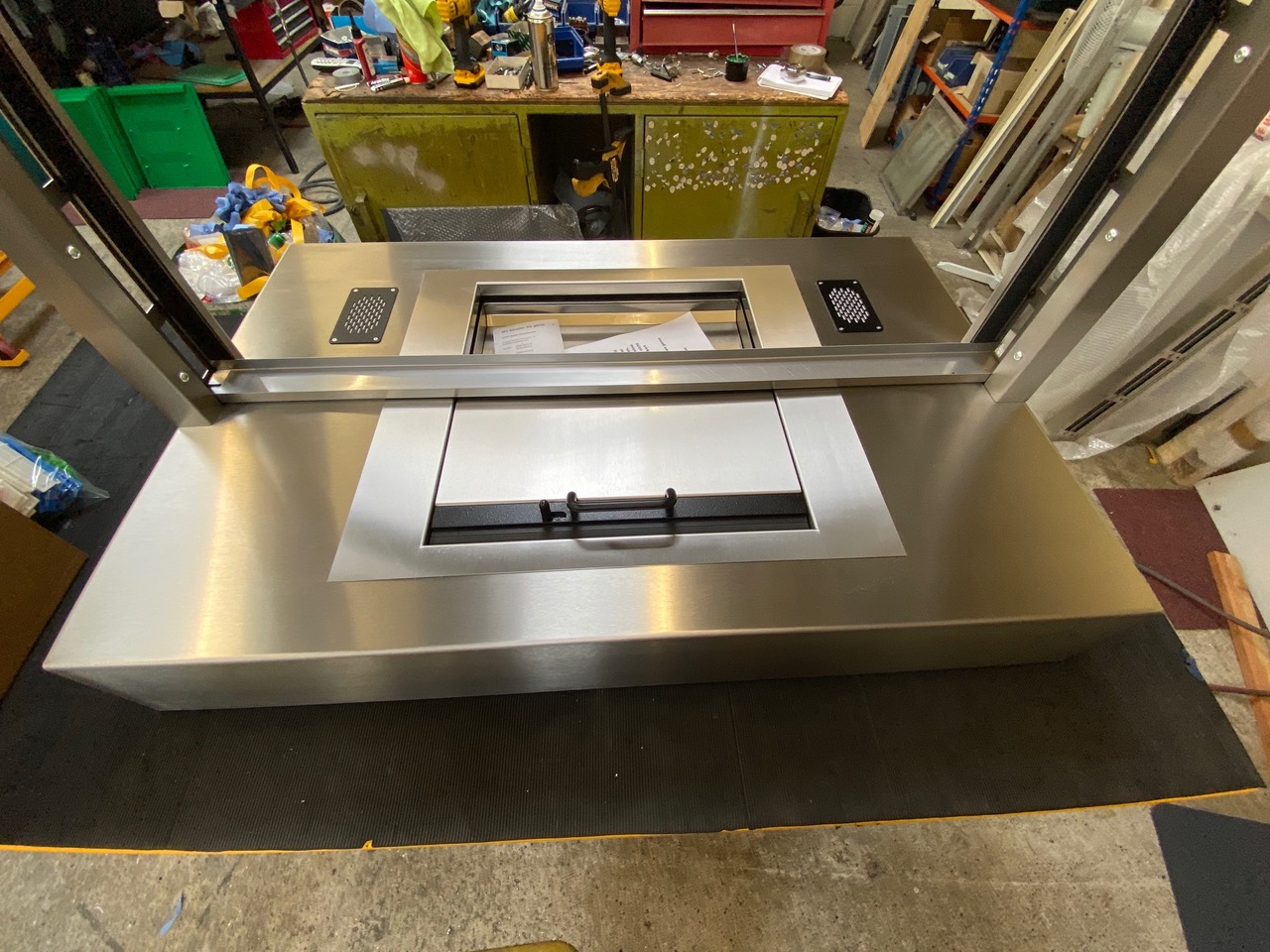 Fire Rated Tray - EI90
Front opening tray designed to offer a flush, built-in finish to a counter/screen. Built into the front or within a partition wall. Suitable for indoor and external uses. This tray is also available in bullet resistant models, ranging from EN1522/3 FB4 to EN1522/3 FB7 in addition to the fire rated element.
Operated manually, the tray and inner cover plate are interlocked guaranteeing bullet resistance and preventing unauthorized infiltration and draughts. Manufactured from solid lacquered steel. The front cover, inner cover as well as draught slide are lacquered in RAL 9006 (white aluminium) as standard. To review the data sheet please click here

Dimensions of front cover; 630mm x 235mm (length x height).
Inner clearance; W x H x D = 330mm x 100mm x 246mm (235mm)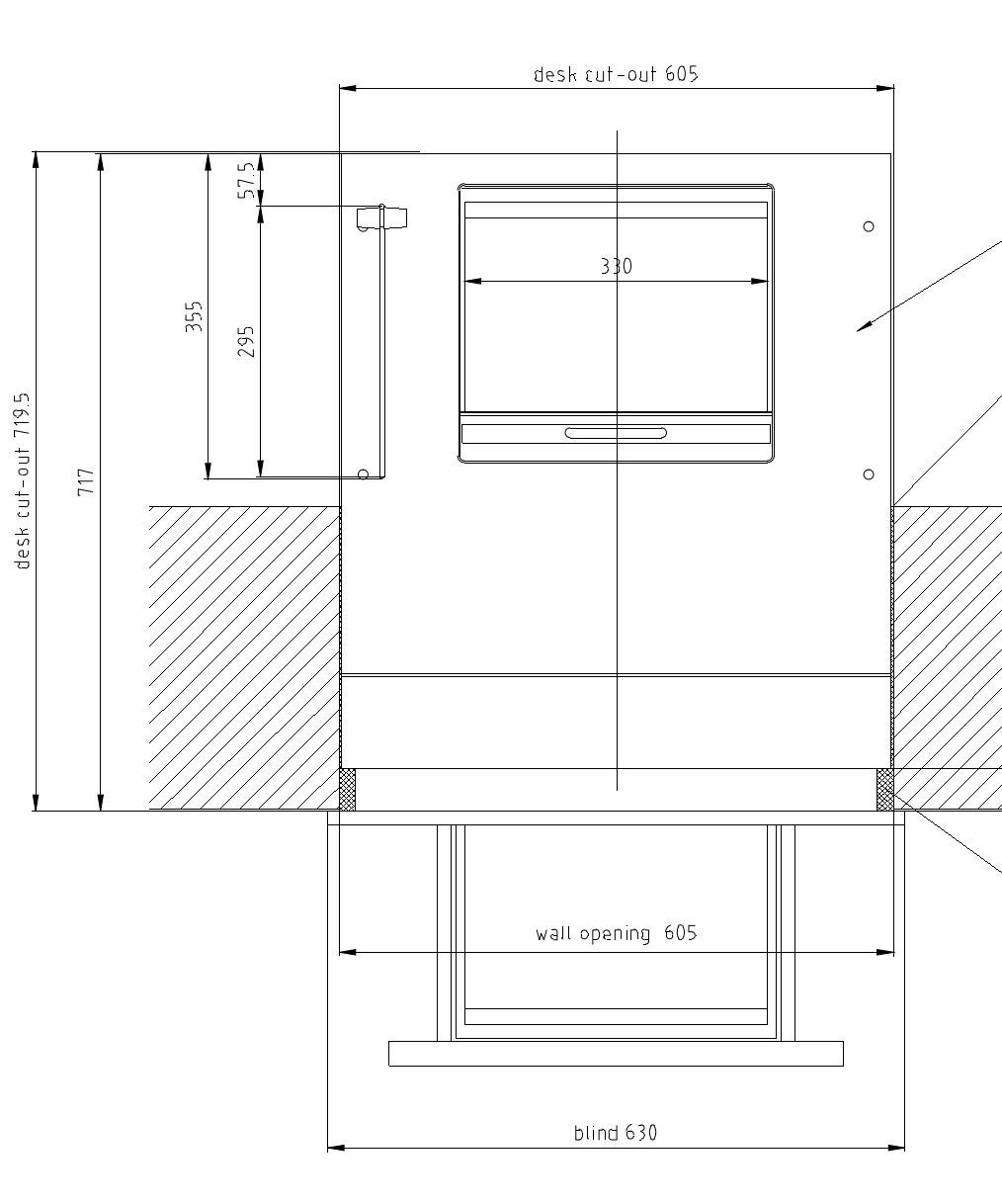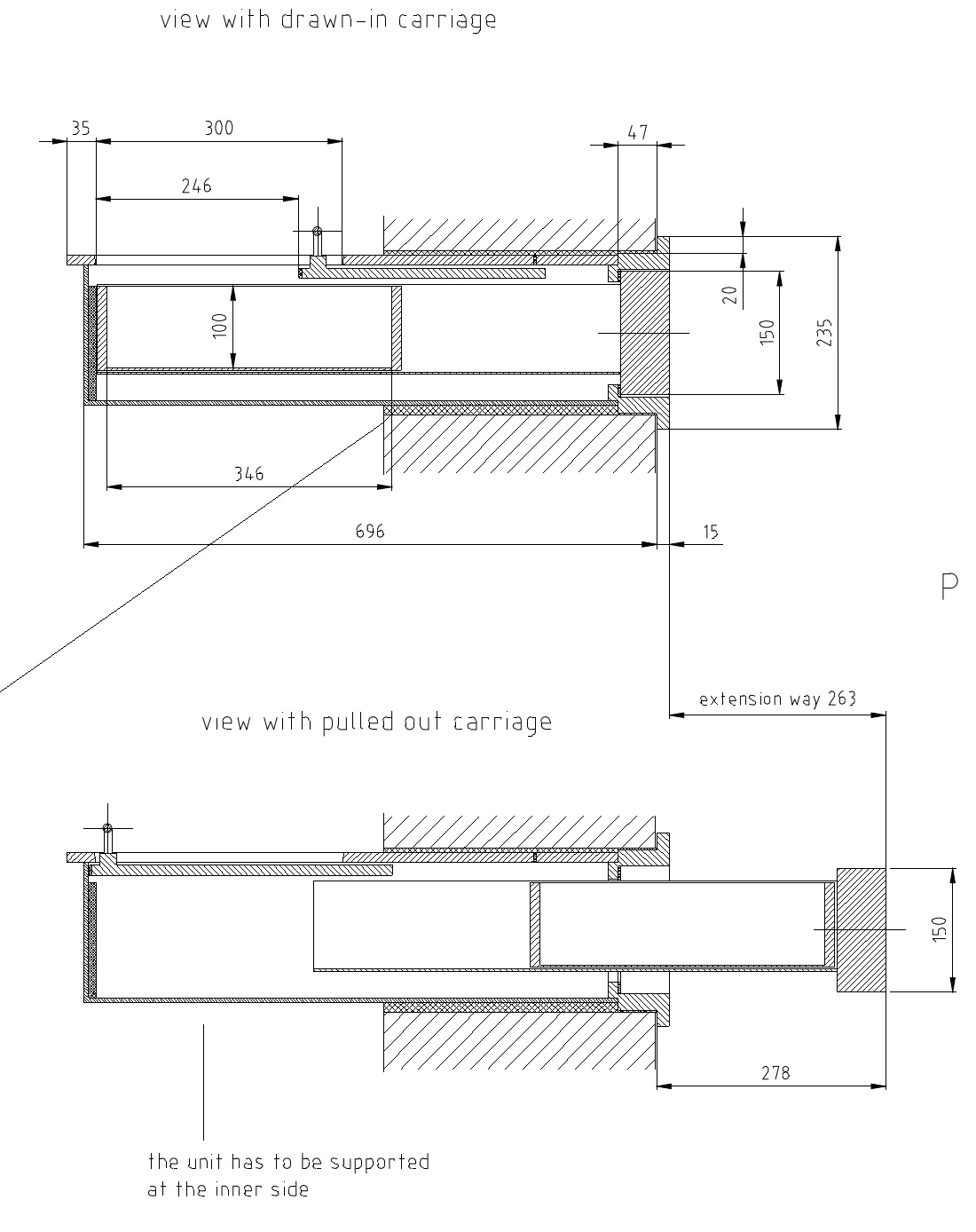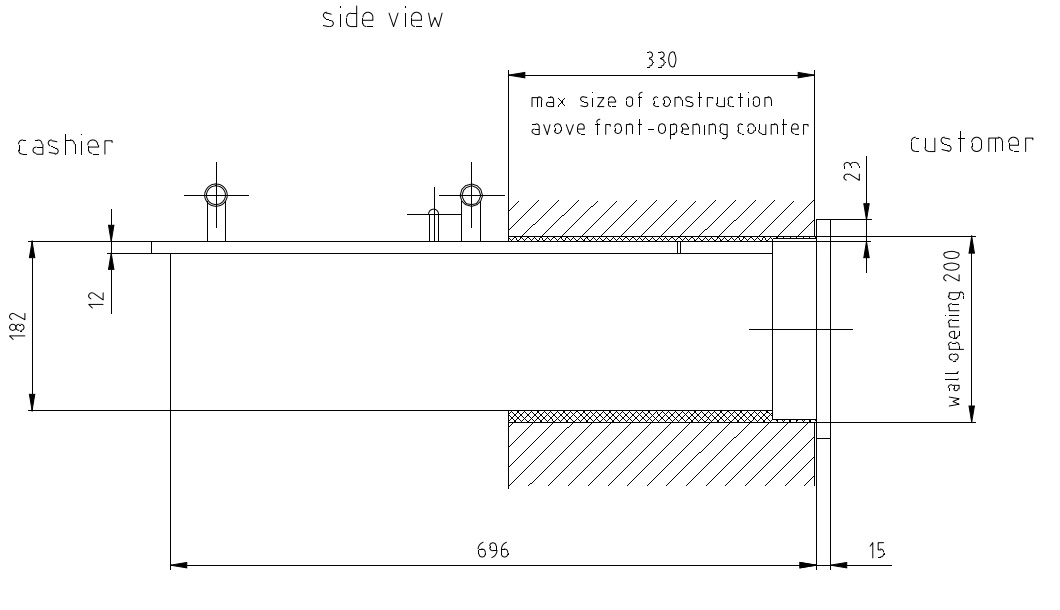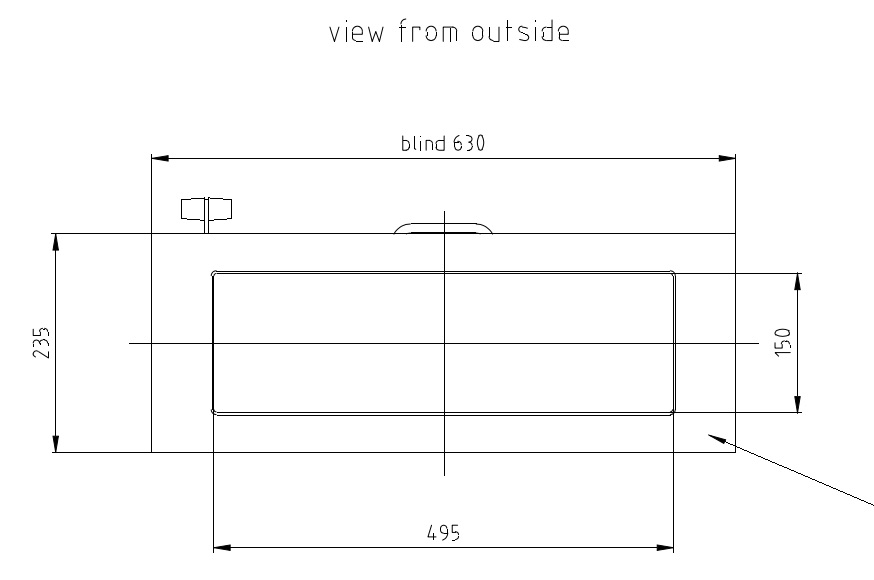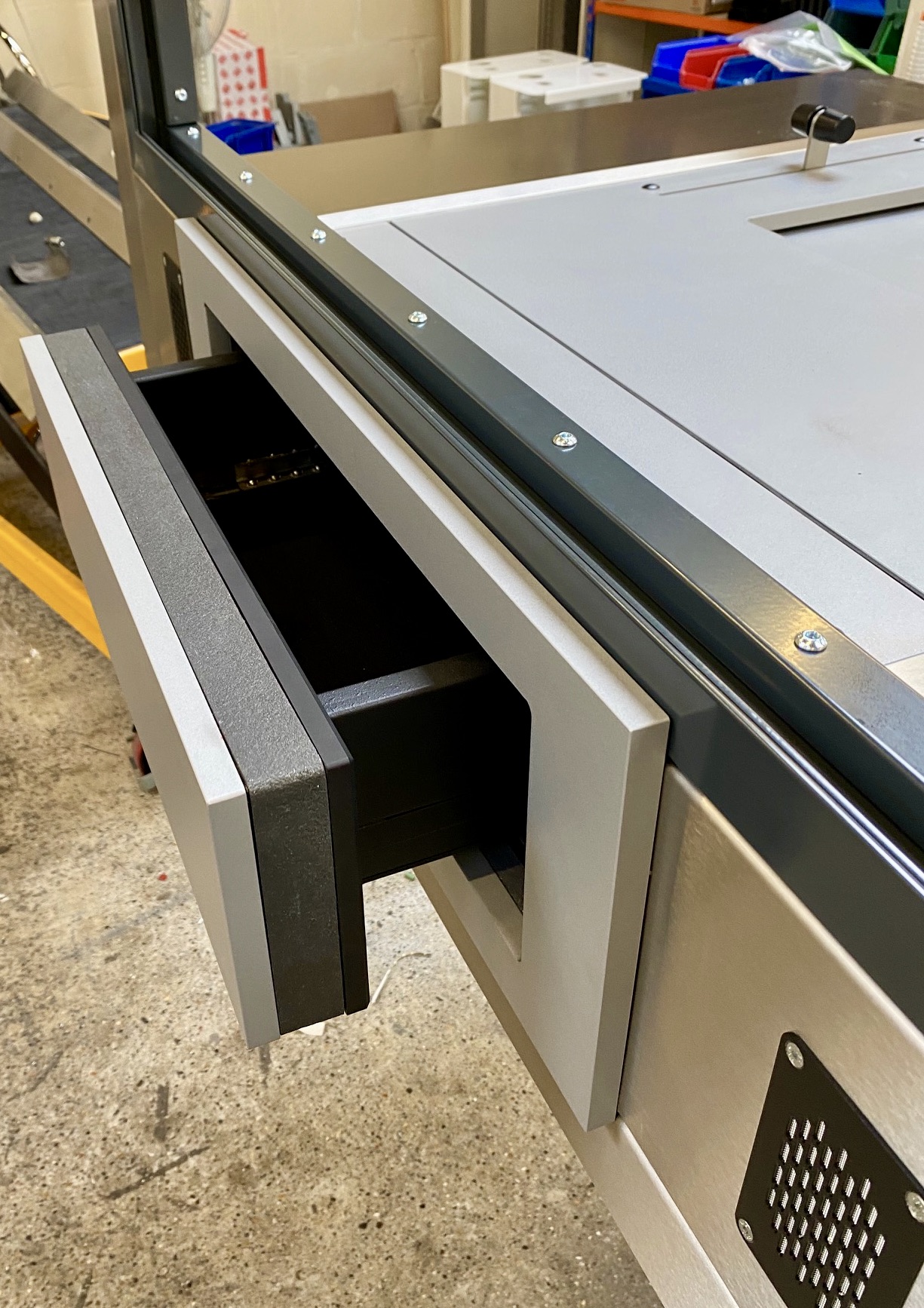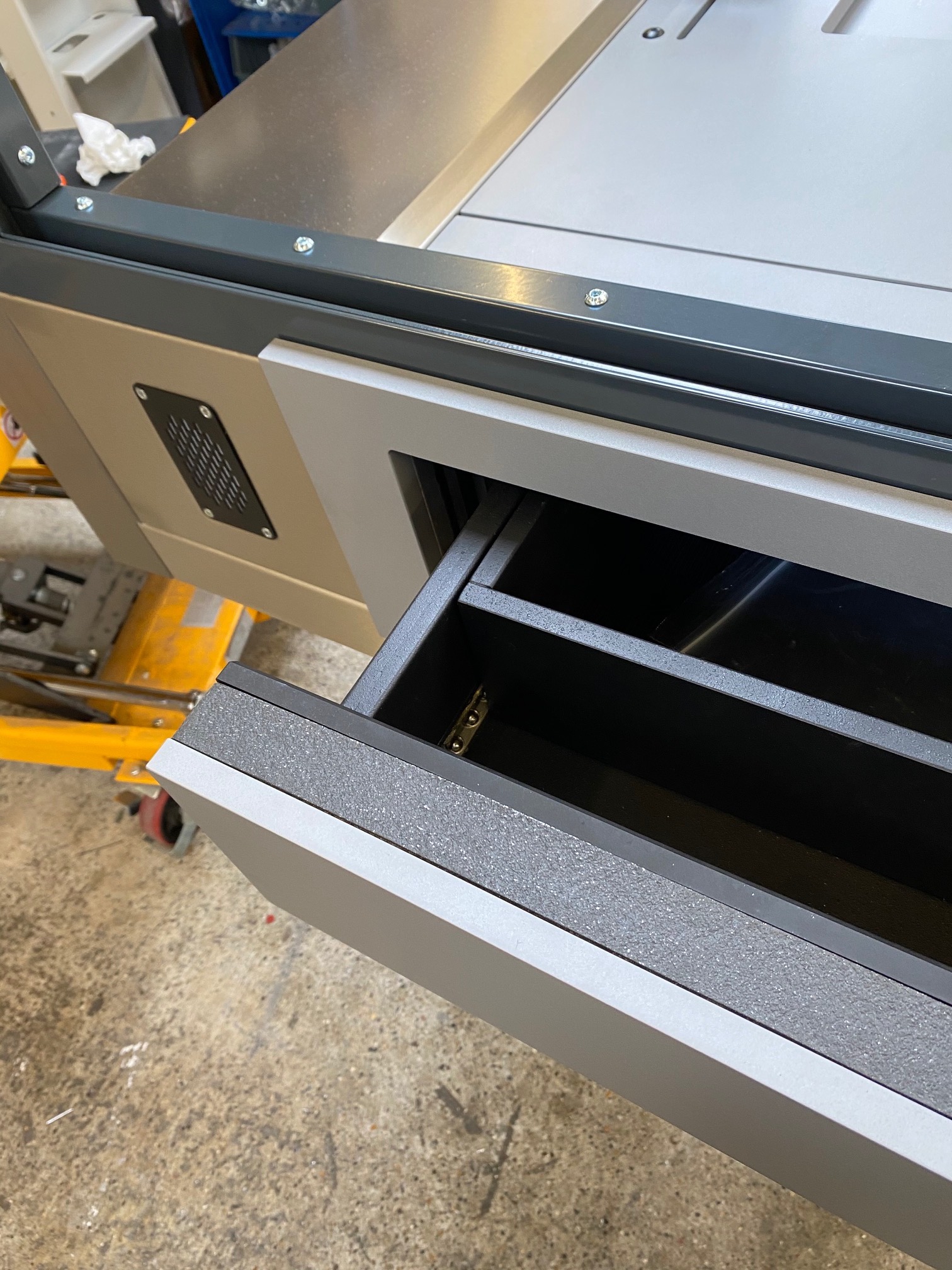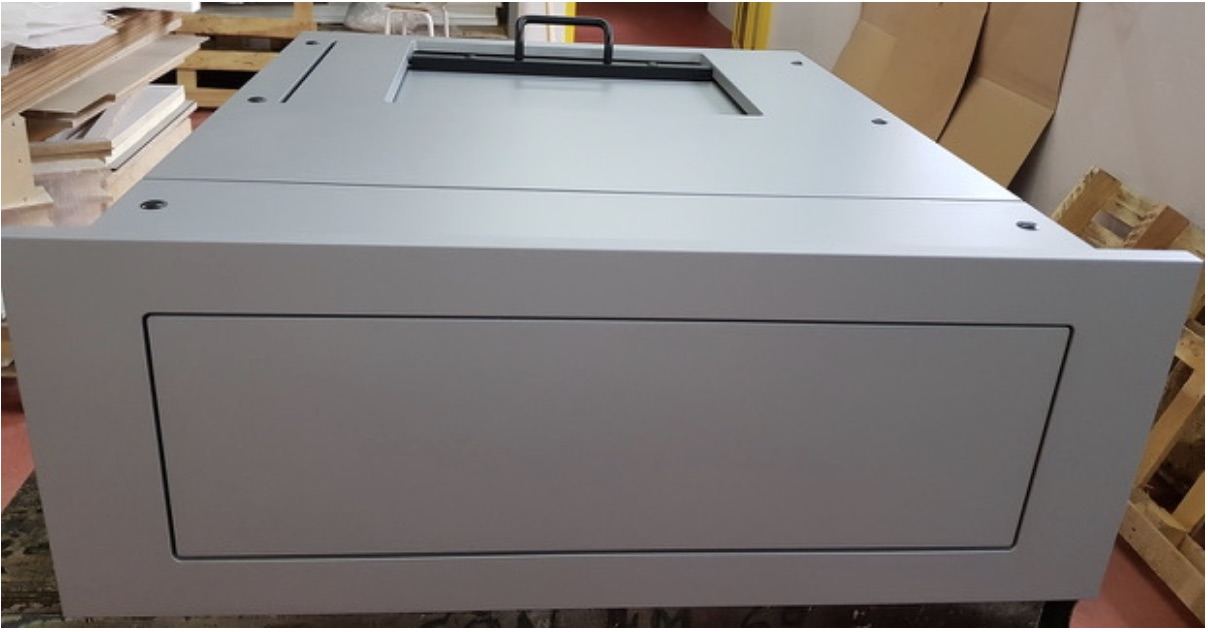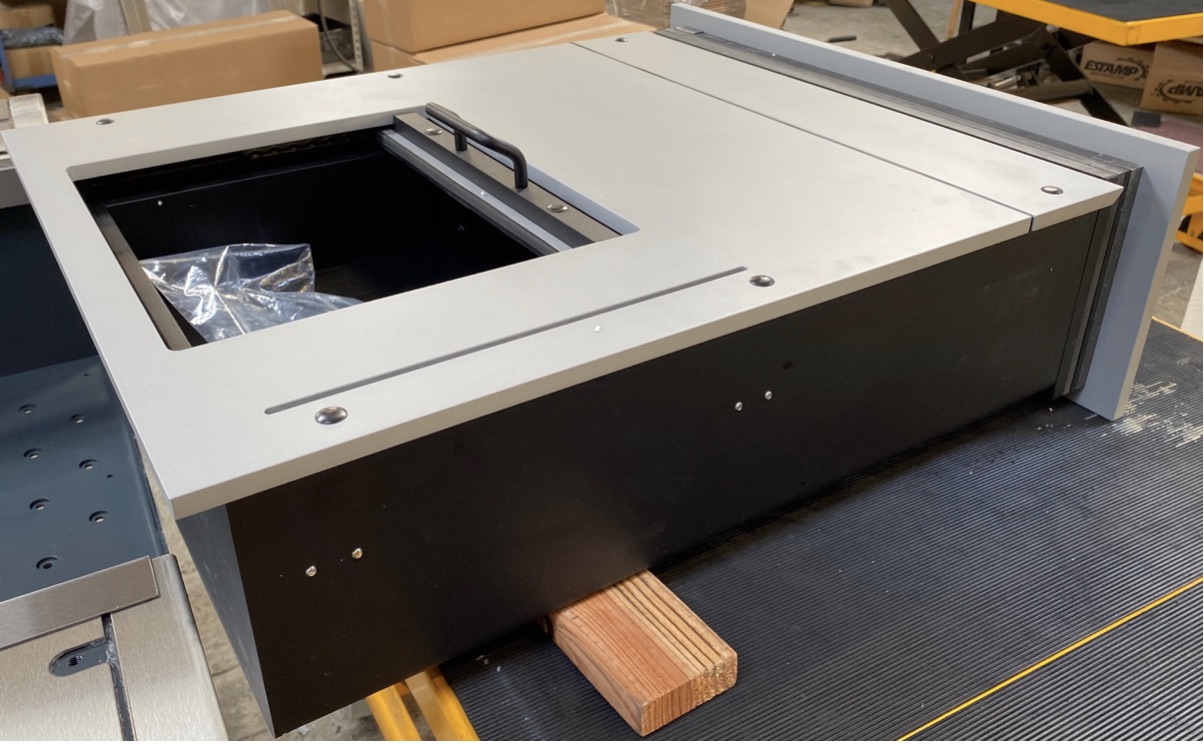 AUDIO TRAY
Architectural Armour are also able to supply a Cash Tray incorporating Audio.
Audio Pass Through Trays are ideal for the transfer of money and small packets between the staff and public, especially where the security glazing systems does not allow an adequate path for the transmission of speech. The Audio Tray has an integral microphone and speech system providing fully duplex speech communication, with induction loop.
The tray's sides are manufactured from mild steel whilst the central pass through trough is fabricated from stainless steel. There is a Perspex slider, which is designed to prevent anyone being able to reach through the tray to the secure side.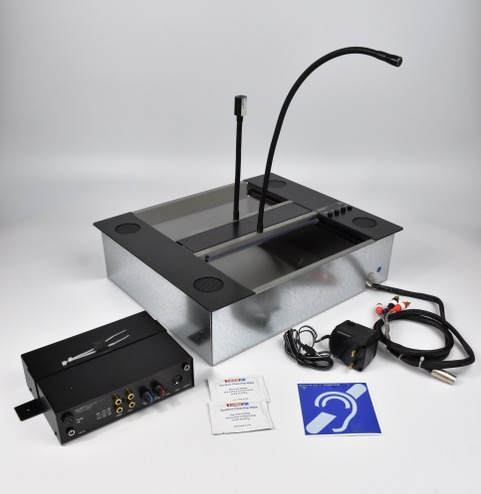 To view and download the data sheet please click the PDF here

ELECTRONIC SPEECH TRANSFER SYSTEM
If you are interested in incorporating speech into any other of the cash trays or scoops our Electronic Speech Transfer system is the ideal accompaniment. The Electronic Speech Transfer System provides the same two-way communication as the Audio Pass through Tray but offers the flexibility to combine with our range of Cash Scoops and Pass Through Trays or retro fit to your existing cash trays.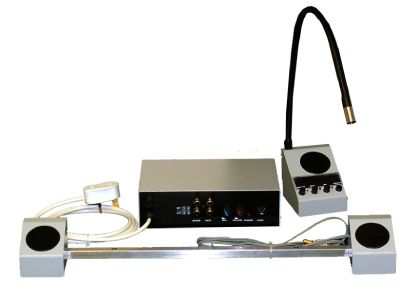 For more information or to view the data sheet please click the link

Alternatively we can offer a Flush Mounted Speech Systerm similar to the below, available in black or grey finish. This Speech Transfer System features speakers mounted into the surface for a sleek and modern finish. The system also includes a flush open duplex amplifier, hearing loop and a free standing staff microphone complete wth speaker unit. This system is suitable for quiet environments with little ambient noise.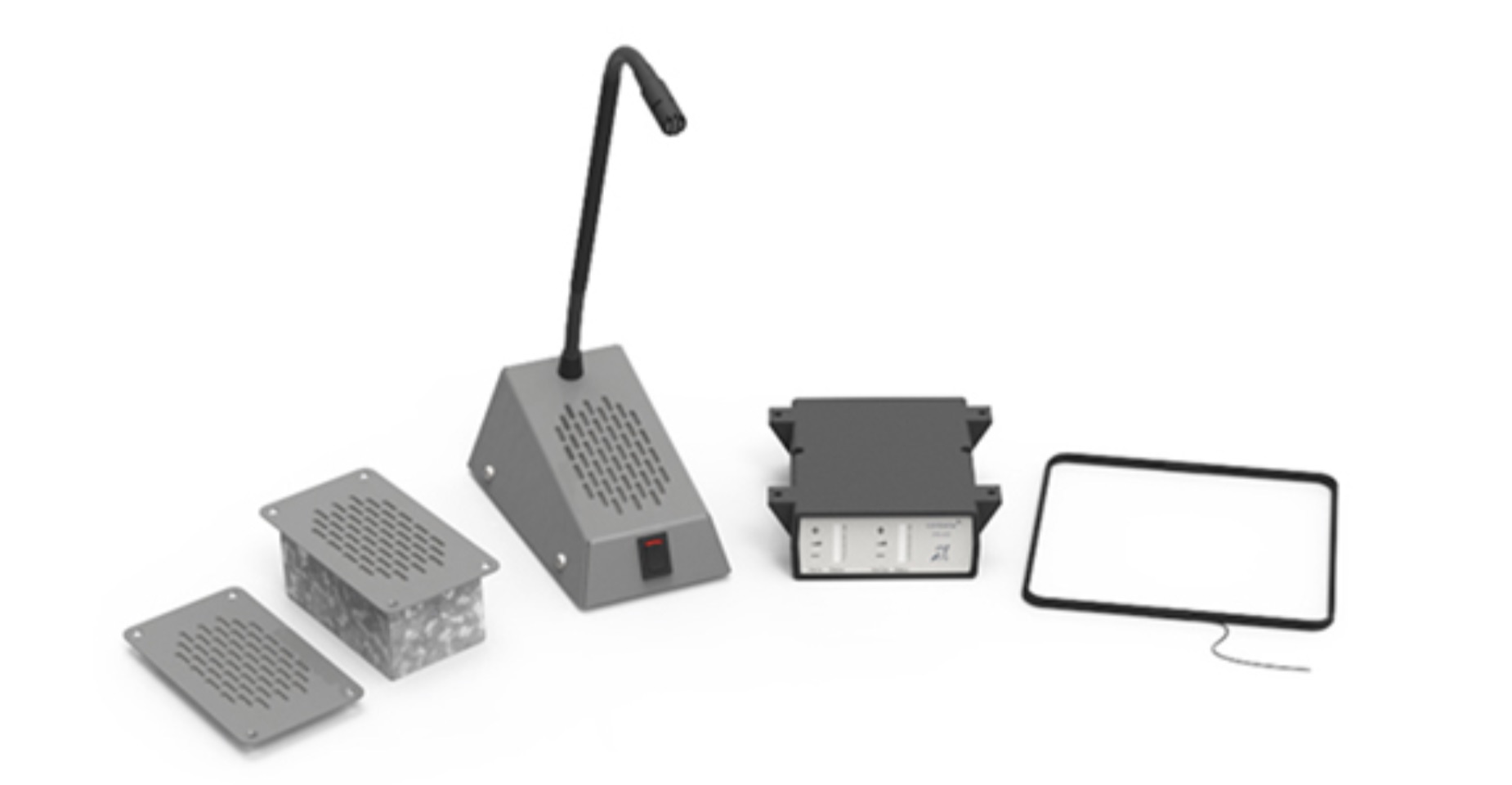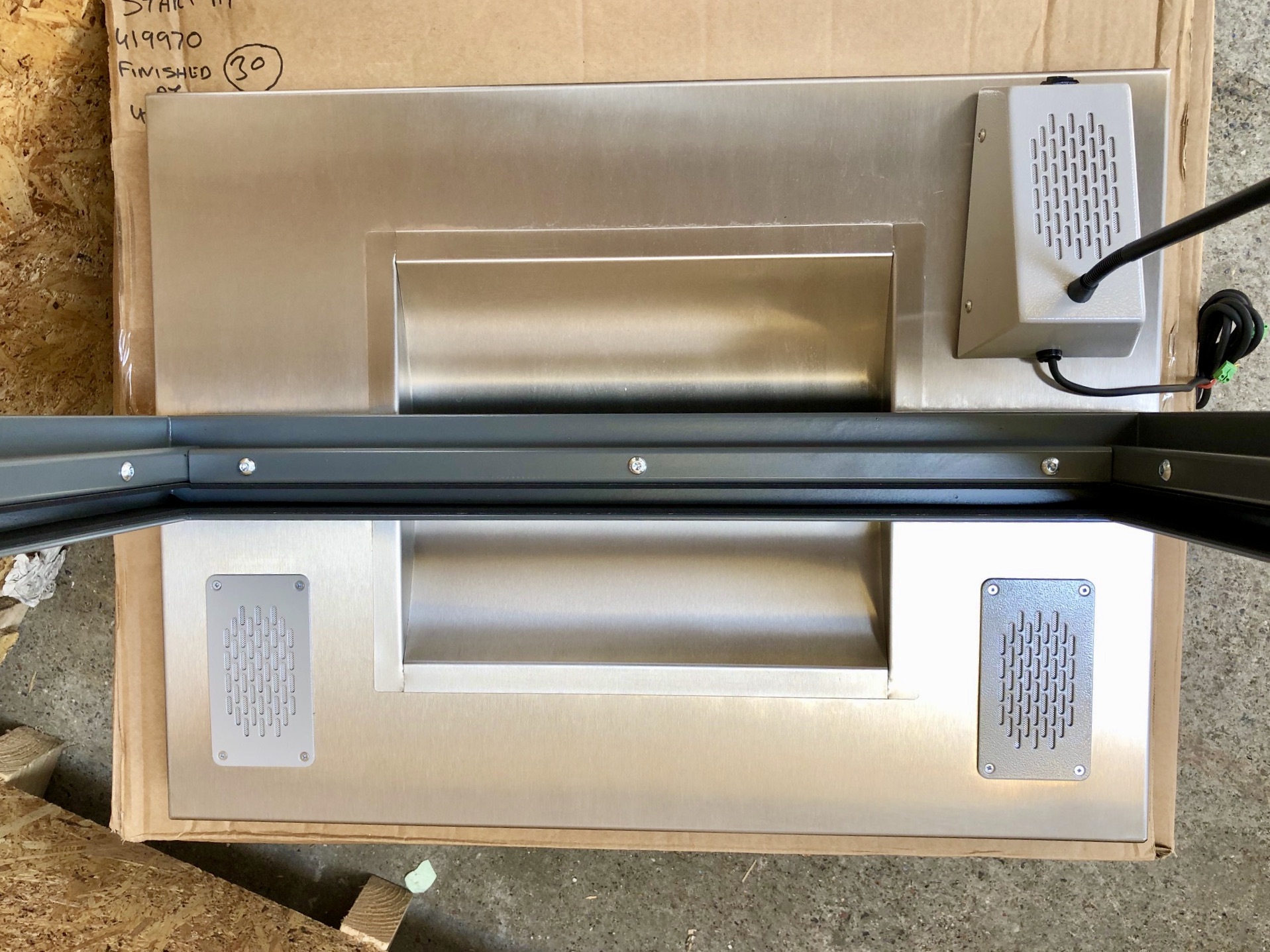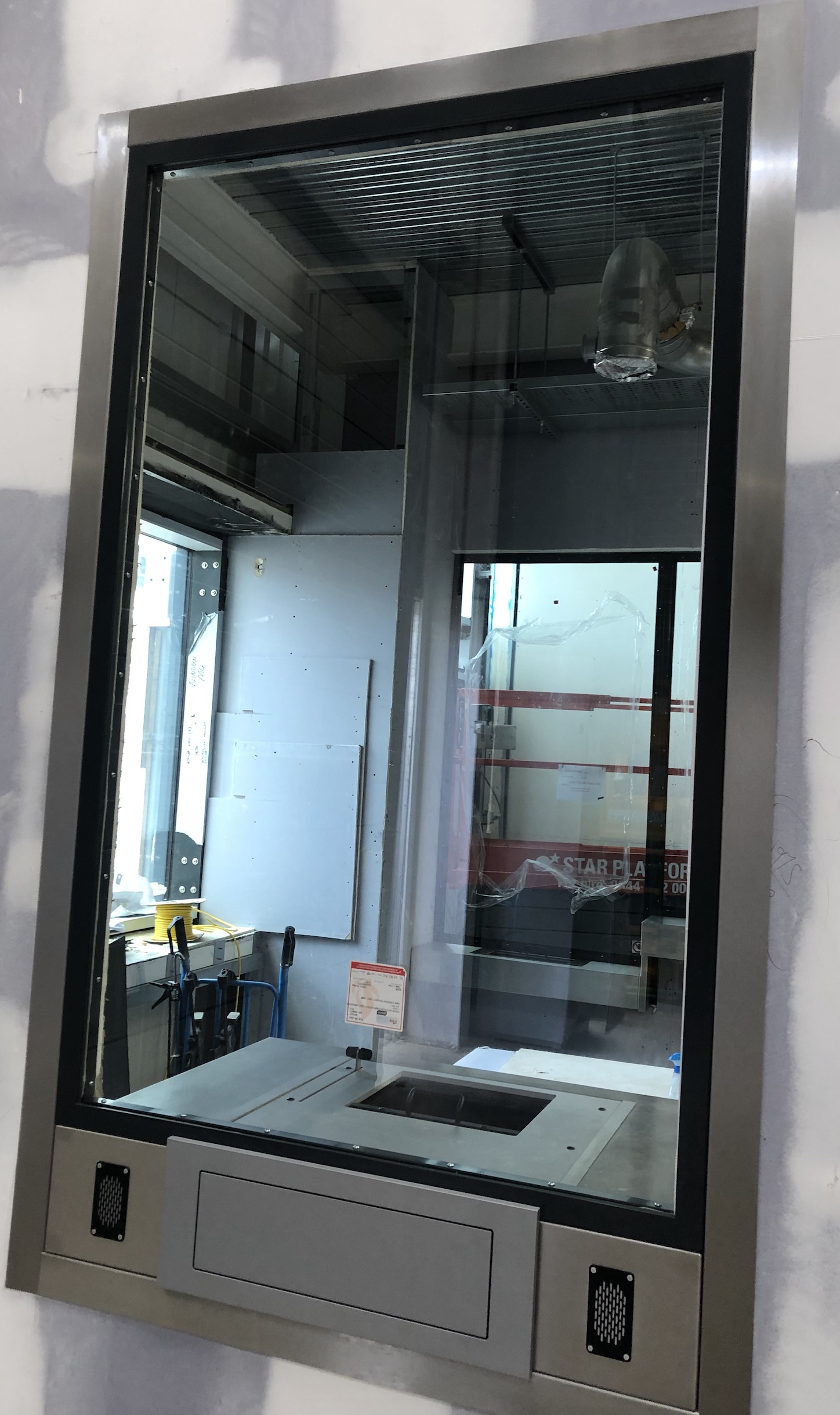 Combination trays in production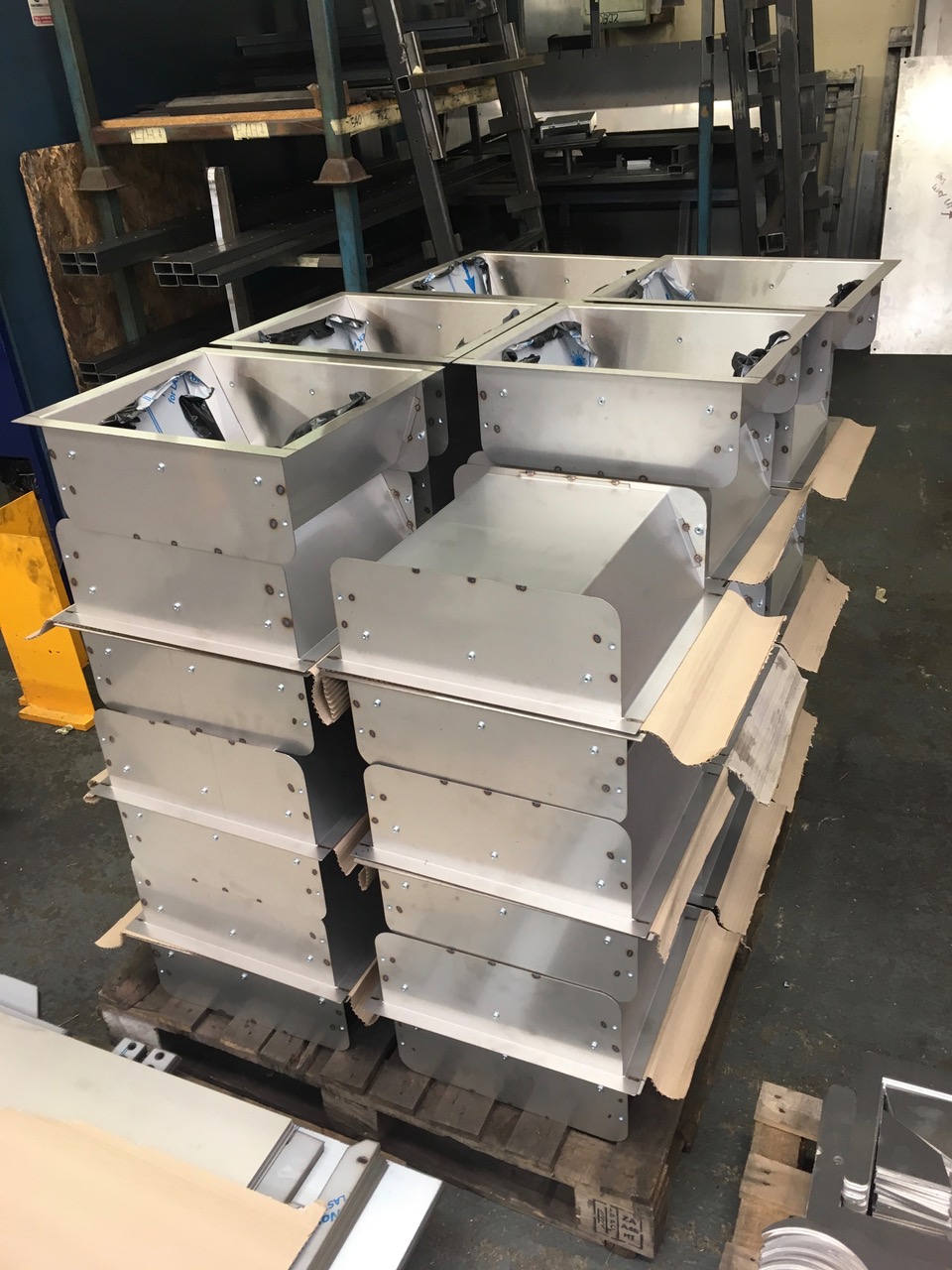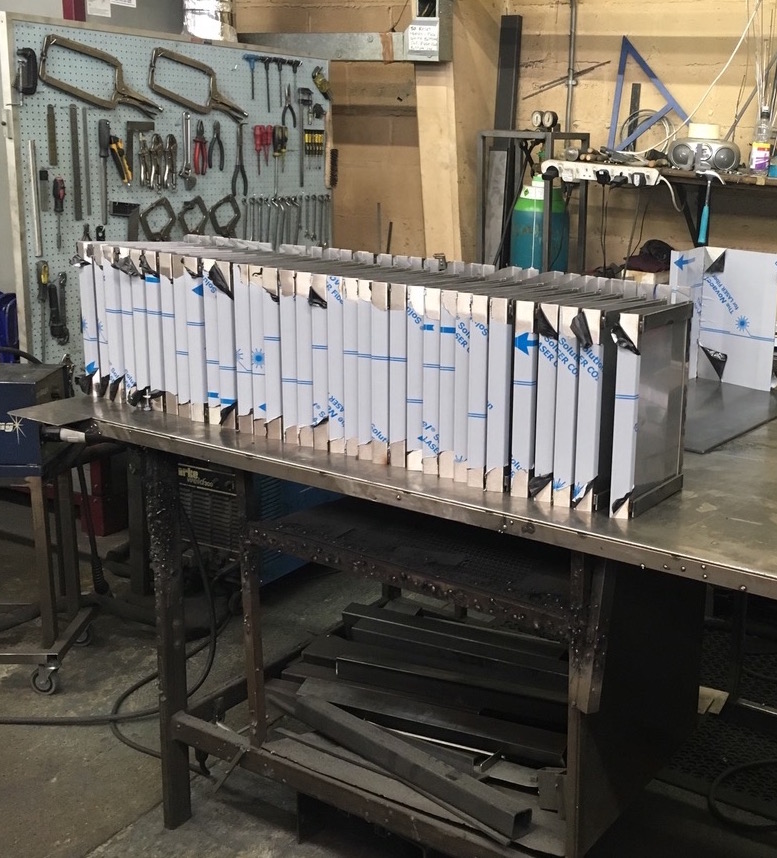 Other Complimentary Products
Stock items
Bullet Resistant Transaction Window Exterior / Interior Bullet Resistant Window with Electronic Speech , Ticket Window
Night Pay Window / Hatch A flat fronted Transaction Window with opening drawer, typically uses Petrol Stations and Pharmacies
Bullet Resistant Door Viewer A full range of bulletproof / Resistant Door Viewers / Peepholes / Spyholes BR4 to BR6
BR6 Guard House Transaction Window Flat fronted Ballistic Window with opening drawer for document transfer.
Attack Resistant Transaction Windows 2 types of versatile Physical Attack Ticket / Cashiers Window with Natural Speech Path for internal use
Cash Transfer Unit ( Electric ) To securely pass larger volumes of cash or valuables. Unit has electrically interlocked doors
All of the above can also be manufactured in bespoke size
Bespoke items
Security Counters and Screens Physical, Ballistic or Blast Resistant Counters for any application to keep staff secure
Ballistic Technical Specifications
EN 1063 Glass in Building - Security Glazing - Testing and Classification of Resistance Against Bullet Attack
UL 752 Standard for Bullet-Resisting Equipment
BS 5051 Bullet-resistant glazing - Part 1: for interior use- Part 2: for Exterior use
NIJ 0108.01 US National Institute of Justice Standard-Test and Certification for Ballistic Resistant Materials
EN 1522/3 Windows, doors, shutters and blinds - Bullet resistance - Requirements and classification /Test method
Blast Specifications
GSA-TS01:2003 Standard Test Method for Glazing and Window Systems Subject to Dynamic Overpressure Loadings
EN 13541 Glass in building - Security glazing - Testing and classification of resistance against explosion pressure
EN 13123-2 Windows, doors and shutters - Explosion resistance - Requirements and classification
ISO 16933:2007 Glass in Building -- Explosion-Resistant Security Glazing -- Test & Classification for Arena Air-Blast Loading
Fire Specifications
UL 10C Positive Fire Pressure Tests of Door Assemblies
EN 1363-1 Fire resistance tests –Part 1: General Requirements
EN 1364-1 Fire resistance tests for non-load-bearing elements – Part 1: Walls
BS 476 Part 22 Fire tests on building materials and structures
EN 1634-1 Fire resistance and smoke control tests for door and shutter assemblies, openable windows and elements of building hardware
Manual Attack Specifications
EN 1627 Pedestrian door-sets, windows, curtain walling, grilles and shutters - Burglar resistance - Requirements and classification
LPS 1270 Intruder Resistant Security Glazing - Requirements & Testing Procedures
LPS 1175 Requirements and testing procedures for the LPCB certification and listing of intruder resistant building components, strongpoints, security enclosures and free-standing barriers
EN 356 Glass in building - Security glazing - Testing and classification of resistance against manual attack.
LPS 1175 and 1270 Tool Categories Testing procedures for the LPCB approval