Attack Resistant Transaction Windows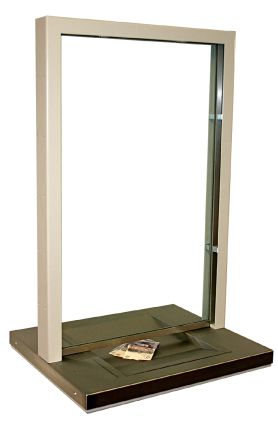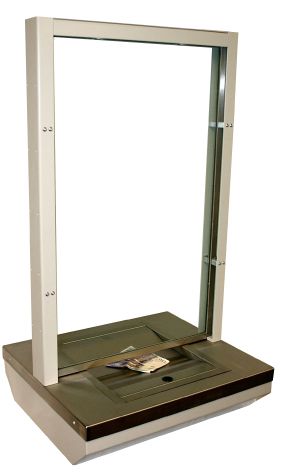 Architectural Armour manufacture and hold stock of 2 versions of physical attack resistant cashier's windows. Primarily designed for internal use these versatile security windows offer a cost effective way of transacting with the public while maintaining the safety of the staff. The primary difference between the SW1 and SW2 is the size and capacity of the transaction tray, the SW1 is fitted with a shallow cash and document tray whilst the SW2 has a combination tray which can be used to pass larger items.
Transaction Window Model SW1 SW1 Data Sheet
Glazing EN356 P6B Laminated attack resistant glass

Size

600mm wide x 952mm high x 520mm deep

Frame Manufactured from mild steel

Colour Polyester powder coated RAL 7035 Light Grey
Base Stainless steel counter over mild steel base

Trays Cash and Document Tray
Capacity 320mm wide x 24mm deep Documents to A3
Speech Natural speech transfer through mullions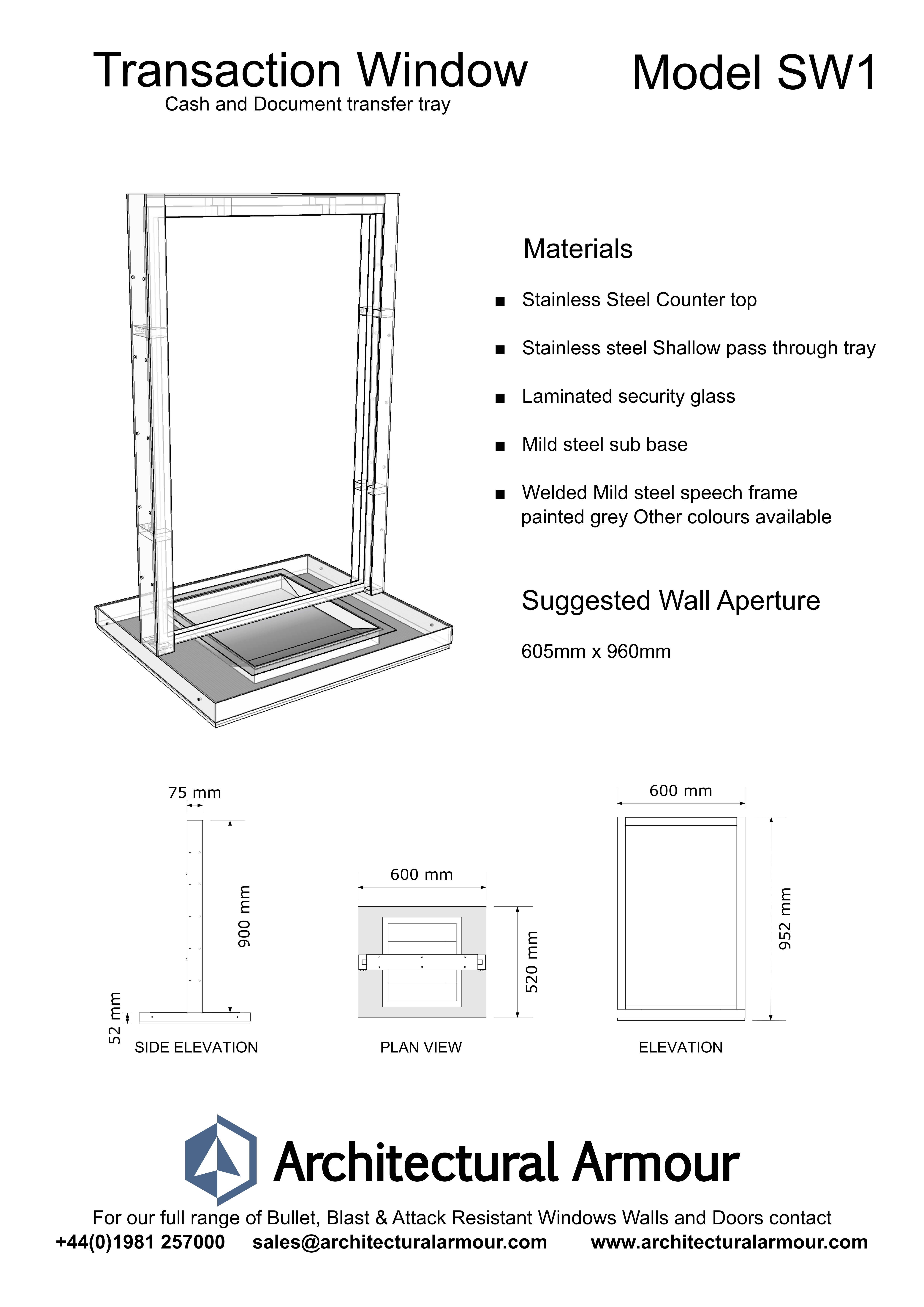 Transaction Window Model SW2 SW2 Data Sheet
Glazing EN356 P6B Laminated attack resistant glass
Size

600mm wide x 1052mm high x 520mm deep
Frame Manufactured from mild steel
Colour Polyester powder coated RAL 7035 Light Grey
Base Stainless steel counter top over mild steel base
Trays Combination Tray, with sliding lid
Capacity Above 320mm wide x 24mm deep Documents to A3
Capacity

Lower Section for larger items
Speech Natural speech transfer through mullions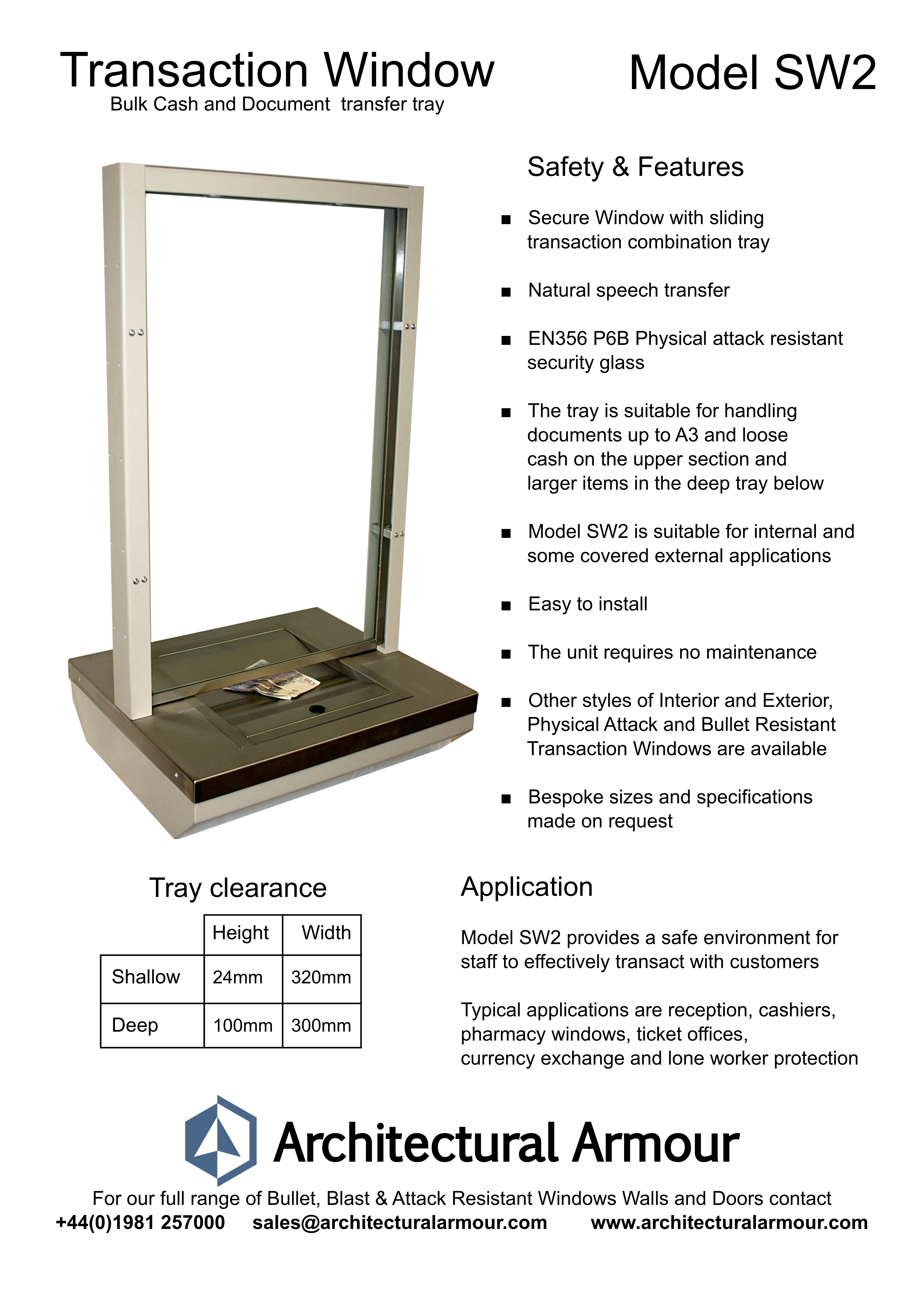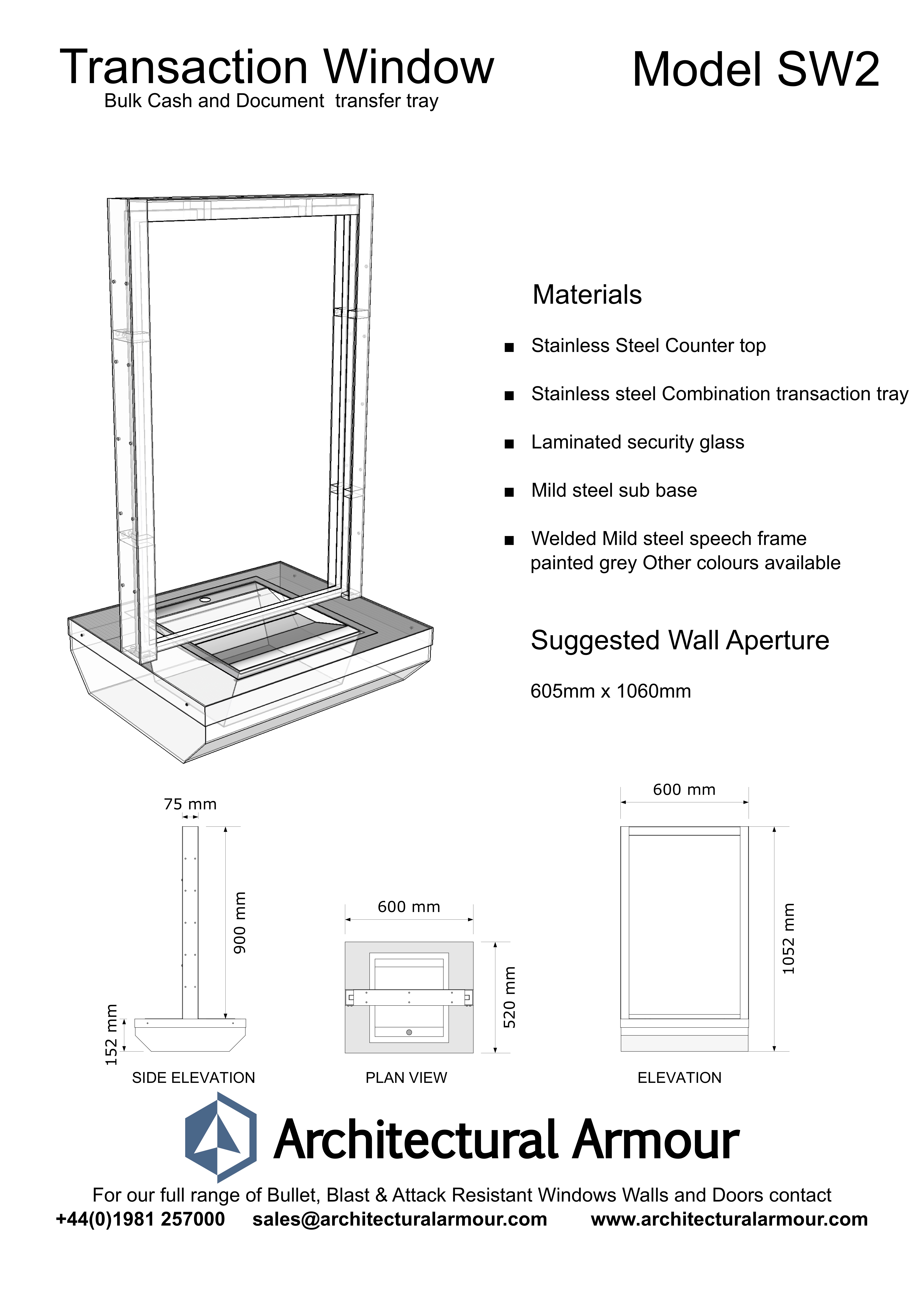 Cashier Windows
Cashiers Windows are designed to offer protection by separating the public from the secure area whilst allowing the staff to easily transact with customers in an efficient manner. Whether bullet or physical attack resistant Architectural Armour can accommodate your security needs. Our transaction windows are often installed with our Electric BTU to enable to transfer of small and large items without compromising security.
For External applications we have the Bullet Resistant Transaction Window (BSW) fitted with a deep pass through tray c/w lockable sliding lid. For the transfer of larger items we have the Night Pay Window, like the External ticket Window it is constructed of stainless steel and incorporates electronic speech transfer.
Typical applications for these models are reception areas, pharmacy windows, ticket offices or currency exchange bureaus, car parks and many more. With so many applications they are known by a variety of alternate names, such as Cash Windows, Pass Through Hatches, Ticket Windows, Pay Out windows, Bank Windows the list goes on. Architectural Armour's management have supplied products for all of these applications, many requiring bespoke solutions.
Architectural Armour Ltd can offer bespoke Physical Attack or Bullet Resistant Cashier Windows and/or Cashier Screens to customer's own specification. We can also supply a range of ballistic windows to withstand bullets from most calibre's of weapon. As these are more specialist items please contact us to discuss your requirements.
Please call us on +44 (0) 1981 257000 or mailto:info@architecturalarmour.com to speak to one of our team.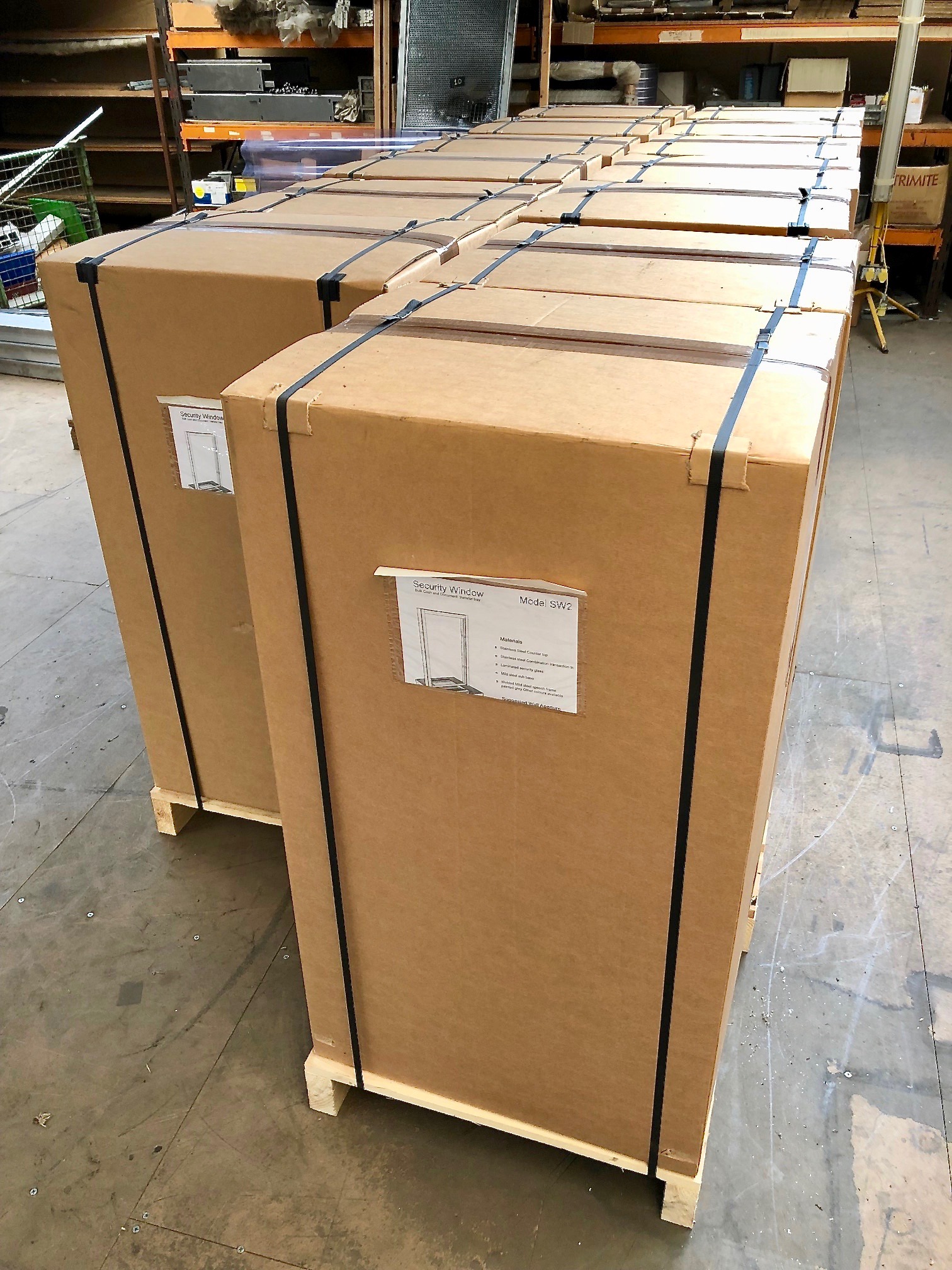 A selection of our standard stocked items are displayed, but if you cannot find what you require here you may wish to view our selection of Cash Scoops and Trays , all of which can be incorporated into a security window of your design and specification.
Architectural Armour offer a range of attack resistant products to different standards, please click the relevant link below to find out more;
Other Transaction Windows available are
Bullet Resistant Transaction Window Exterior/Interior Bullet Resistant Window with Electronic Speech, Ticket Window
Night Pay Window / Hatch A flat fronted Transaction Window. Opening drawer, typical uses Petrol Stations/Pharmacies
BR6 Guard House Transaction Window BR6 flat fronted Ballistic Window with opening drawer for document transfer.
Other Attack Resistant Products
Attack Resistant Glass Manual Attack resistant glass. Certified to EN356 or LPS 1270
Security Counters and Screens Physical, Ballistic or Blast Resistant Counters for any application to keep staff secure
Attack/Intruder Resistant Windows EN356 rated attack resistant windows protecting against planned or surprise attacks.
Attack/Intruder Resistant Doors LPS1175 rated doors for multi-purposes. Manufactured bespoke to customers requirements.
Manual Attack Specifications
EN 1627 Pedestrian door-sets, windows, curtain walling, grilles and shutters - Burglar resistance - Requirements and classification
LPS 1270 Intruder Resistant Security Glazing - Requirements & Testing Procedures
LPS 1175 Requirements and testing procedures for the LPCB certification and listing of intruder resistant building components, strongpoints, security enclosures and free-standing barriers
EN 356 Glass in building - Security glazing - Testing and classification of resistance against manual attack.
LPS 1175 and 1270 Tool Categories Testing procedures for the LPCB approval