EN 1063 BR4 Bullet Resistant Glass
The below products are specifically tested to EN 1063 BR4 against a .44mm calibre weapon, a Magnum. As you can see from the table below there are many comparisons to the NIJ and UL test standards. For more information on the complete range of test standards, including EN1063 please see our technical specifications section.
Class Threat Level

Type of Weapon

Calibre

Ammunition

No of shots

Velocity (m/s)

Test Range (m)

Spacing (mm)

EN1063 BR4

Handgun

.44 Rem Magnum

FJ2/FN/SC

3

440+/- 10

5

120+/- 10

NIJ 0108.01 Level IIIA

Handgun

.44 Magnum Lead SWC Gas Checked

5

381+/-15

425+/- 15

5

N/A

UL 752 Level 3

Handgun

.44 Magnum

LSW GC

3

412-452

4.6

N/A
As can be seen from the attachment/image below, EN1063 BR4 Glass is available in 2 spall variants, no spall (NS) and spall allowed (SA), both of which are available in fire rated versions; E30 and E60 (Integrity only). The fire rated variants can be incorporated into our Fire Resistant Windows or Security and Counters to fit your projects needs.
Alternatively if you require EN 1063 BR4 glazing only, this can be incorporated into our Bullet Resistant Windows or Bullet Resistant Doors, allowing a Vision Panel to be included in the design of the door.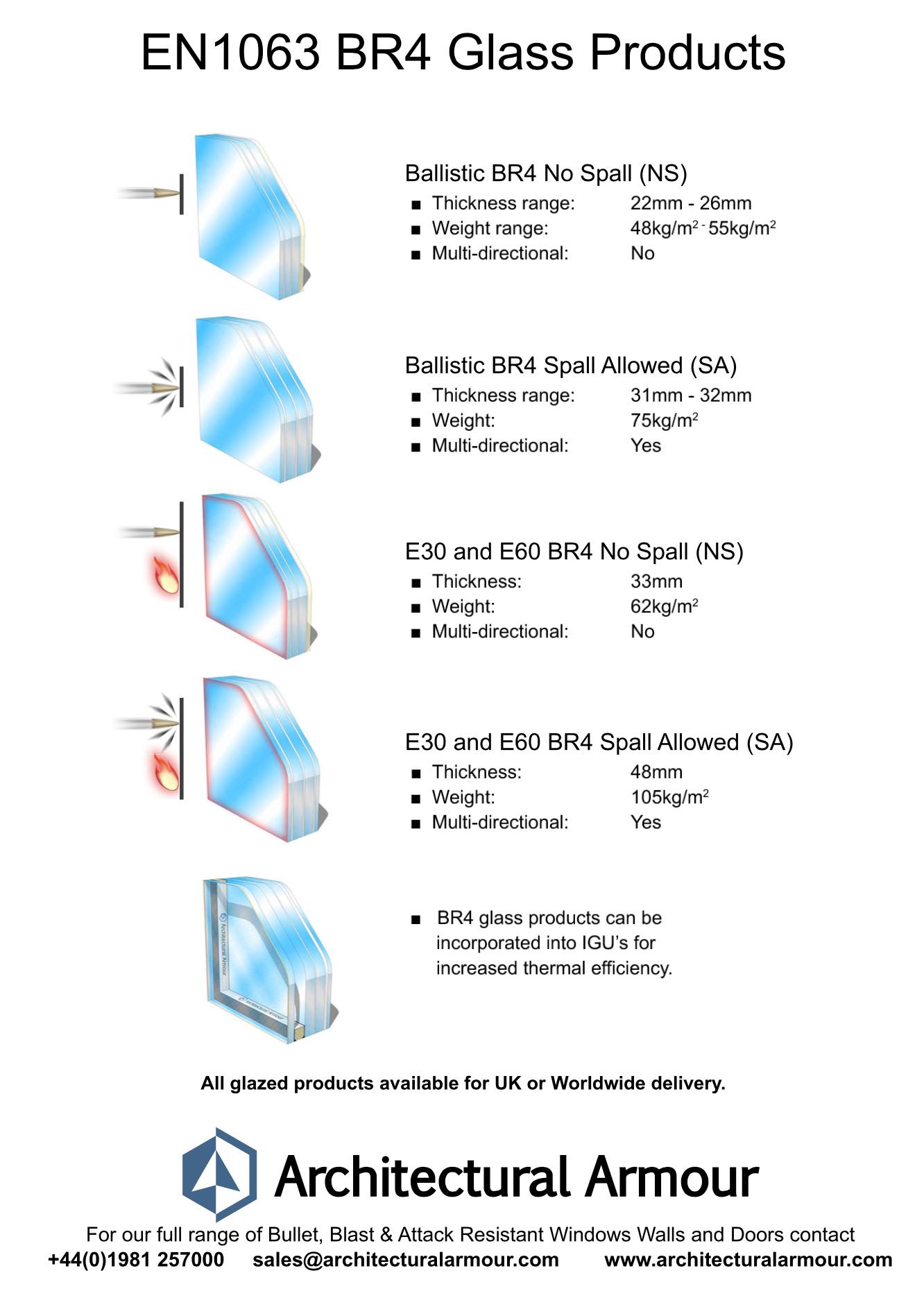 We can also offer alternative standards of bullet resistant glazing, which can be found on our Bullet Resistant Glass page.
For more information, prices or to discuss your project in more detail with one of our team members please contact our offices on +44(0) 1981 257000 or email mailto:info@architecturalarmour.com