EN 1522/3 FB3 EN 1063 BR3 Windows
Architectural Armour manufacture bespoke Bullet Proof- Resistant Windows to suit your specific requirements.
The FB3 BR3 window detailed on this page below is specifically tested to EN 1063 BR3 and EN1522/3 FB3, withstanding multiple impacts from a .357 mm calibre Handgun. As you can see from the table below there are many comparisons to the NIJ and UL test standards when considering the Europeon EN 1063 standard. For an in depth understanding of all test standards please see our technical specifications section.
Class Threat Level

Type of Weapon

Calibre

Ammunition

No of shots

Velocity (m/s)

Test Range (m)

Spacing (mm)

EN1063 BR3

Handgun

.357 Magnum

FJ1/CB/SC

3

430+/- 10

5

120+/- 10

NIJ 0108.01 Level II-A, and II

Handgun

.357 Magnum JSP

JSP

5

381+/-15

425+/- 15

5

N/A

UL 752 Level 2

Handgun

.357 Magnum

JSP

3

381-419

4.6

N/A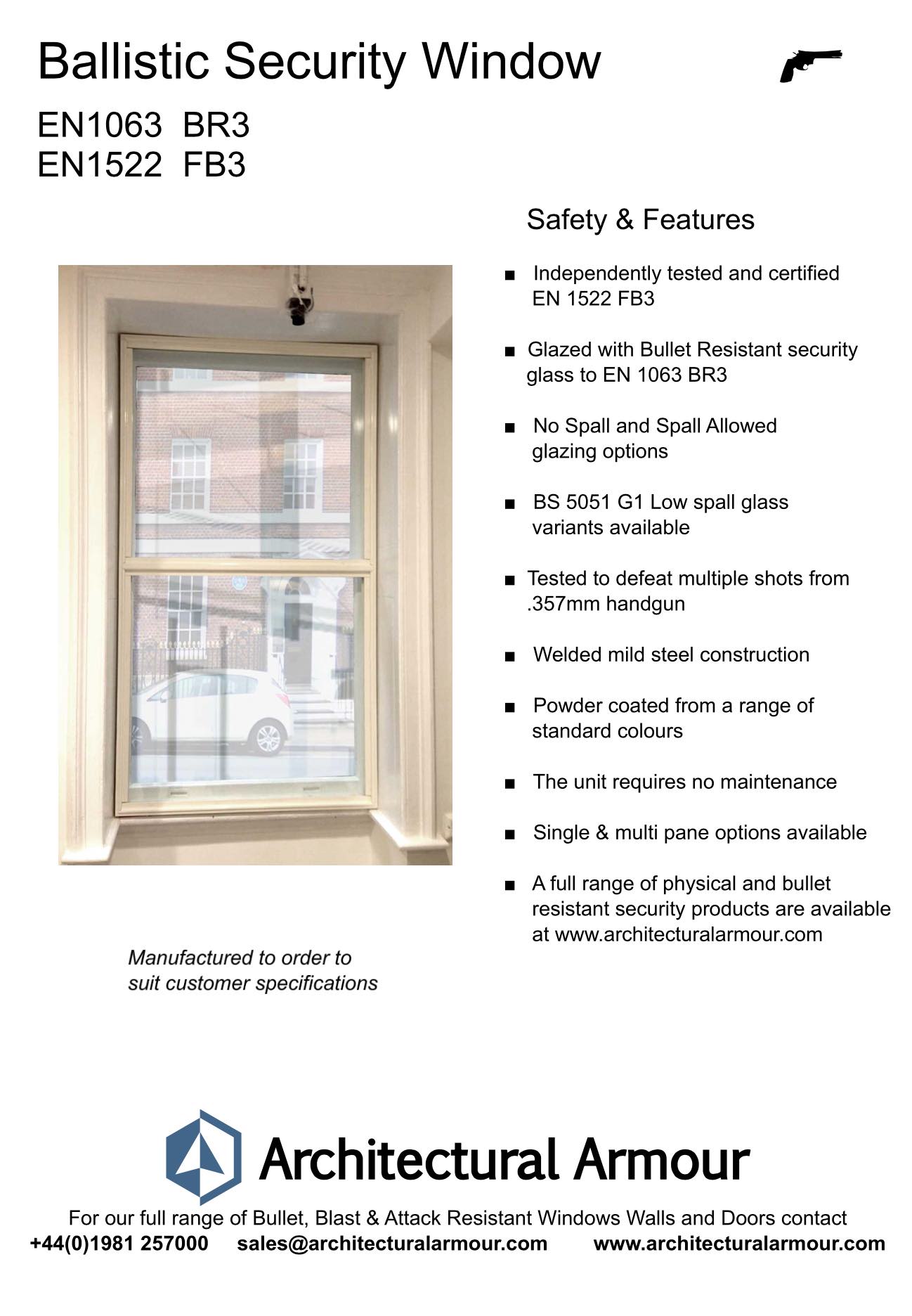 Architectural Armour offer other Bullet Resistant/Ballistic window specifications, including EN1522/3 FB2 BR2, FB4 BR4, FB5 BR5, FB6 BR6, FB7 BR7 and NIJ 0108.01 . Please click on the relevant link to review the data sheet and further information. Alternatively please go back to the Bullet Resistant Window or Security Windows homepage. These windows can be fitted with a selection of bullet resistant glass in both Spall allowed and No Spall variants
Please email mailto:info@architecturalarmour.com or call +44(0)1981 257000 to discuss your requirements.