Fire Resistant Windows
Architectural Armour offer fire resistant, attack / fire, blast/fire and and bullet/ fire resistant windows, below is a small glossary of the terminology, please contact us to discuss your specific requirements . Please email mailto:info@architecturalarmour.com or call +44(0) 1981 25700
Intergrity E
This is the ability of glazed material to prevent the spreading of flames or hot gases (integrity), denoted by the symbol E, e.g. E30, E60, E90 or E120
Insulation EI
Insulation is the ability of a glazed material to limit heat transfer to the unexposed surface (integrity and insulation), denoted by the symol E, e.g. EI30 , EI60 but may be expressed as fire glass 30/30, 60/60 or 120/120.
Duration
This is the period of time a glazed material can peform and defines the classifications for fire resistance, typically 30, 60, 90,, 120 . e.g.
E60 is a Integrity only glass offering 60 minutes .
EI60 is an integrity and insulation product offering 60 minutes.
Dual Purpose
Fire glass can either be bonded onto a laminate or incorporated into a double glazed unit for thermal efficiency or for greater security combined with bullet or physical attack glass.
Ballistic and Fire
Where the need for protection against bullets as well as fire arises, Architectural Armour can offer a variety of ballistic glazed options to suit the following EN1063ballistic protection levels. Please click through to specific details of the glass used in these windows.
EN 1063BR2 / EN1522/3 FB2, E30 & E60
EN1063 BR3 / EN1522/3 FB4, E30 & E60
EN1063 BR4 / EN1522/3 FB4, E30 & E60
EN1063 BR5 / EN1522/3 FB5, E30 & E60
EN1063 BR6 / EN1522/3 FB6, E30 & E60
EN1063 SG1 &2 / EN1522/3 FSG, E30 & E60
Physical Attack and Fire
Similar to the above ballistic protection the fire glass can be offered to meet the EN356 physical attack standards. Most popular are
EN356 P6B, E30 & E60
EN356 P7B, E30 & E60
EN356 P8B, E30 & E60
Double Glazed Unit (Thermal)
Thermal insulation is often a requirement in primary glazing, by incorporating a certified Fire Glass into a Double Glazed Unit DGU (also known as Insulated Glass Unit, IGU) this can be achieved.
Varying the depth of spacer bar and void infill, these DGU's can achieve a range of U Values. On a standard unit the cavity between panes of glass will be filled with air, the air can be replaced with argon which is an inert gas to improve its thermal performance.
Sulphur hexafluoride infill is available for improved acoustic performance.
Certification
Each fire glass sold on the market is tested and issued a Certifire Document, outlining the test parameters and the results/conclusion obtained. In the document it will also specify the framing requirements to achieve the rating, i.e. to achieve E30, meaning 30 minutes protection against flame, you need a glass such as a modified toughened 6mm and this can then be framed into either a timber construction or a specified steel profile including Jansen Economy. There will also be restrictions on maximum pane sizes for windows and vision panels etc but this is all outlined quite clearly in the Certifire Document readily available from the manufacturers of the glass. An example of such a document is noted below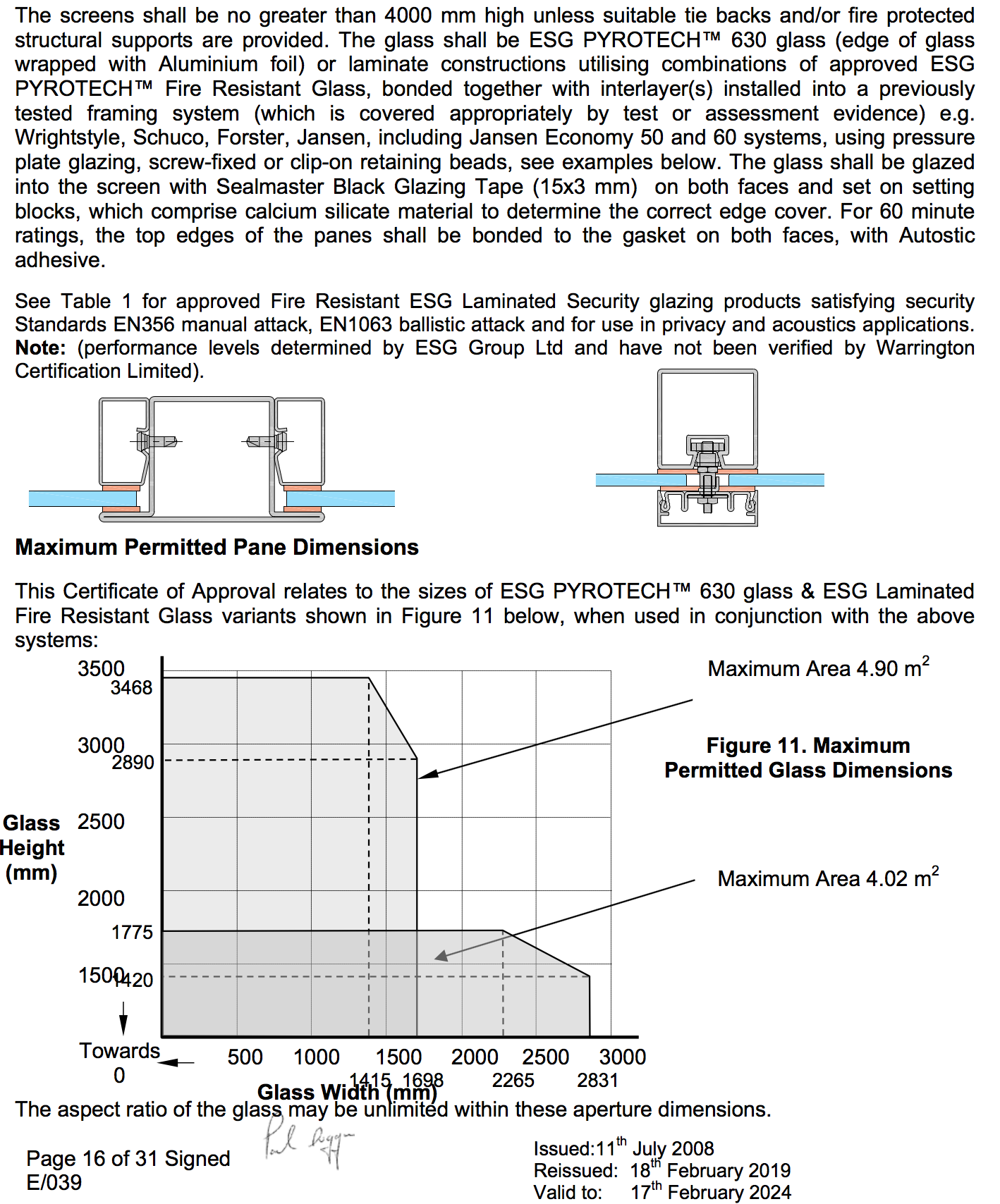 This quite clearly notes the maximum pane sizes for a window into a steel profile system and gives option for the type of frame used.
Architectural Armour offer a range of fire rated products to different standards, please click the relevant link below to find out more;
Fire Rated Products
Fire Resistant Glass E30 to EI120 , Physical and Ballistic options available
Security Counters and Screens Physical, Ballistic or Blast Resistant Counters for any application to keep staff secure
Security Fire Doors A combination of fire protection and security rated doors made to measure.
Fire Specifications
UL 10C Positive Fire Pressure Tests of Door Assemblies
EN 1363-1 Fire resistance tests –Part 1: General Requirements
EN 1364-1 Fire resistance tests for non-load-bearing elements – Part 1: Walls
BS 476 Part 22 Fire tests on building materials and structures
EN 1634-1 Fire resistance and smoke control tests for door and shutter assemblies, openable windows and elements of building hardware