Bulletproof / Resistant Glass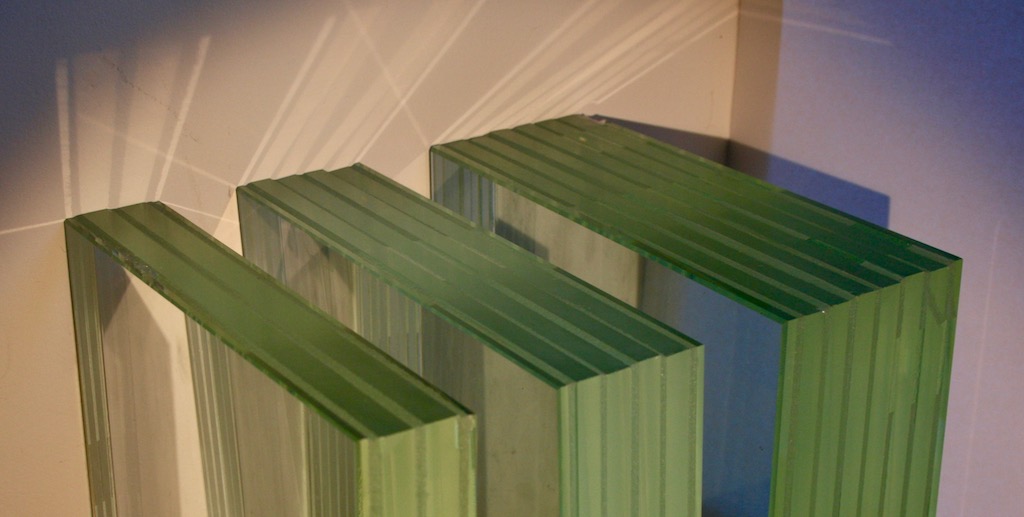 Ballistic glass is manufactured in a range of thicknesses and compositions to meet a number of international security standards. The 3 major glazing standards are the European BS EN 1063 and the US UL752 and NIJ 0108.01. These technical performance specifications require a set number of test samples to withstand impacts from a range of bullets travelling at specified speeds, from set distances. To be successful all of the samples must prevent the penetration of the bullet from attack face to secure side.
Below is a sample of the EN1063 glass that we can supply, or incorporate into a Bullet Resistant Window assembly or Security Counters and Screens. Ballistic glass is also available tested to NIJ0108.01 and UL752 standards.
Please email mailto:info@architecturalarmour.com or call +44(0) 1981 25700 so we can discuss your specific requirements.
Available EN 1063 Ballistic Spall Allowed Glass
Spall Allowed usually refers to an all glass construction where glass shards are permitted to break away from the secure side when a bullet impacts the attack face. See explanation on spall allowed and no spall lower down the page. Please click on the Class Threat Level to be taken to the glass product page, giving you a better understanding of what Architectural Armour can offer.
| | | | | |
| --- | --- | --- | --- | --- |
| Class Threat Level | Type of Weapon | Calibre of Weapon | Glass Thickness (mm) +/-2 | Link to PDF |
| EN 1063 BR1 | Rifle | 22 LR | 14-23 | |
| | Hand Gun | 9mm Luger | 22-23 | |
| | Hand Gun | .357 Magnum | 27 | |
| | Hand Gun | .44 Rem Magnum | 32 | |
| | Rifle | 5.56 x 45 | 36-39 | |
| | Rifle | 7.62 x 51 | 52 | |
| | Rifle | 7.62 x 51AP | 77 | |
| | Shotgun | 12/70 | 31-35 | |
| | Shotgun | 12/70 | 47 | |
Available EN 1063 Ballistic No Spall Glass
No Spall glass is typically constructed using both glass and polycarbonate, when the bullet strikes the attack face, no shards break away, protecting even those within close proximity. Please click on the Class Threat Level to be taken to the glass product page, giving you a better understanding of what Architectural Armour can offer.
| | | | | |
| --- | --- | --- | --- | --- |
| Class Threat Level | Type of Weapon | Calibre of Weapon | Glass Thickness (mm) +/-2 | |
| EN 1063 BR1 | Rifle | 22 LR | 18 | |
| | Hand Gun | 9mm Luger | 18 | |
| | Hand Gun | .357 Magnum | 18 | |
| | Hand Gun | .44 Rem Magnum | 22 | |
| | Rifle | 5.56 x 45 | 34 | |
| | Rifle | 7.62 x 51 | 38-42 | |
| | Rifle | 7.62 x 51 AP | 68-74 | |
| | Shotgun | 12/70 | 25 | |
| | Shotgun | 12/70 | 34-38 | |
| | Rifle | AK47 | 44 | |
HOW TO CHOOSE A BULLET RESISTANT GLASS
When selecting a bullet glass there are a number of variables to consider, these include the level of protection, the composition of the glass and the spall variant, the following aims to give some insight into the options available.
LEVEL OF PROTECTION

Within Europe the most commonly specified standards are the European BS EN 1063 levels include handguns, rifles and shotguns .
Levels of Bullet Resistance
Hand Gun Specifications

9mm Luger - EN 1063 BR2, similar to NIJ 0108.01 IIA

.357 Magnum - EN1063 BR3, similar to NIJ 0108.01 II

.44 Magnum - EN 1063 BR4 similar to NIJ 0108.01 IIIA
Rifle Specifications

5.56 x 45mm Rifle - EN 1063 BR5 similar to BS 5051 R1

7.62 x 51mm Rifle - EN 1063 BR6 similar to R2 & NIJ 0108.01 III

7.62 x 51mm Rifle AP - EN 1063 BR7 similar to NIJ 0108.01 IV
Shotgun Specifications

12/70 Solid Slug - EN 1063 SG1 & SG2
BULLET GLASS COMPOSITIONS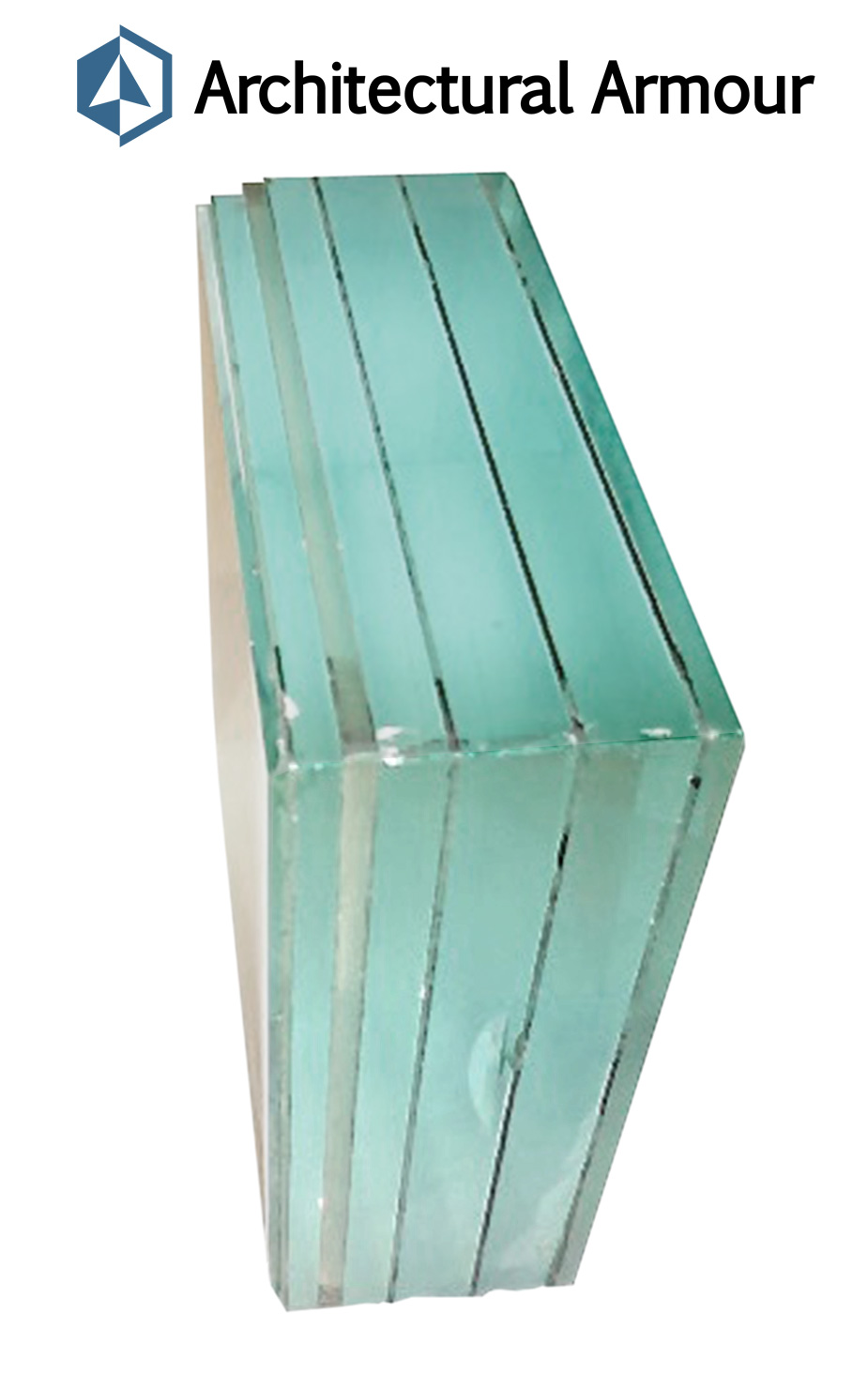 Bullet glass compositions vary but most common are laminated structures manufactured from several layers of glass bonded together with tough polyvinyl butyral (PVB) interlayer's. The performance requirements govern the number, and thickness of individual glass layers, thus affecting the overall thickness and weight. On impact the front layers of glass are designed to absorb the bullets initial impact energy by shattering allowing the subsequent glass layers and PVB to absorb the lower level shock waves.
Some bullet compositions include the use of a polycarbonate layer on the secure side, the advantages of this are two fold. Polycarbonate is lighter and stronger than glass and its use allows the manufacturers to reduce overall thickness and greatly reduce weight, especially in no spall variants.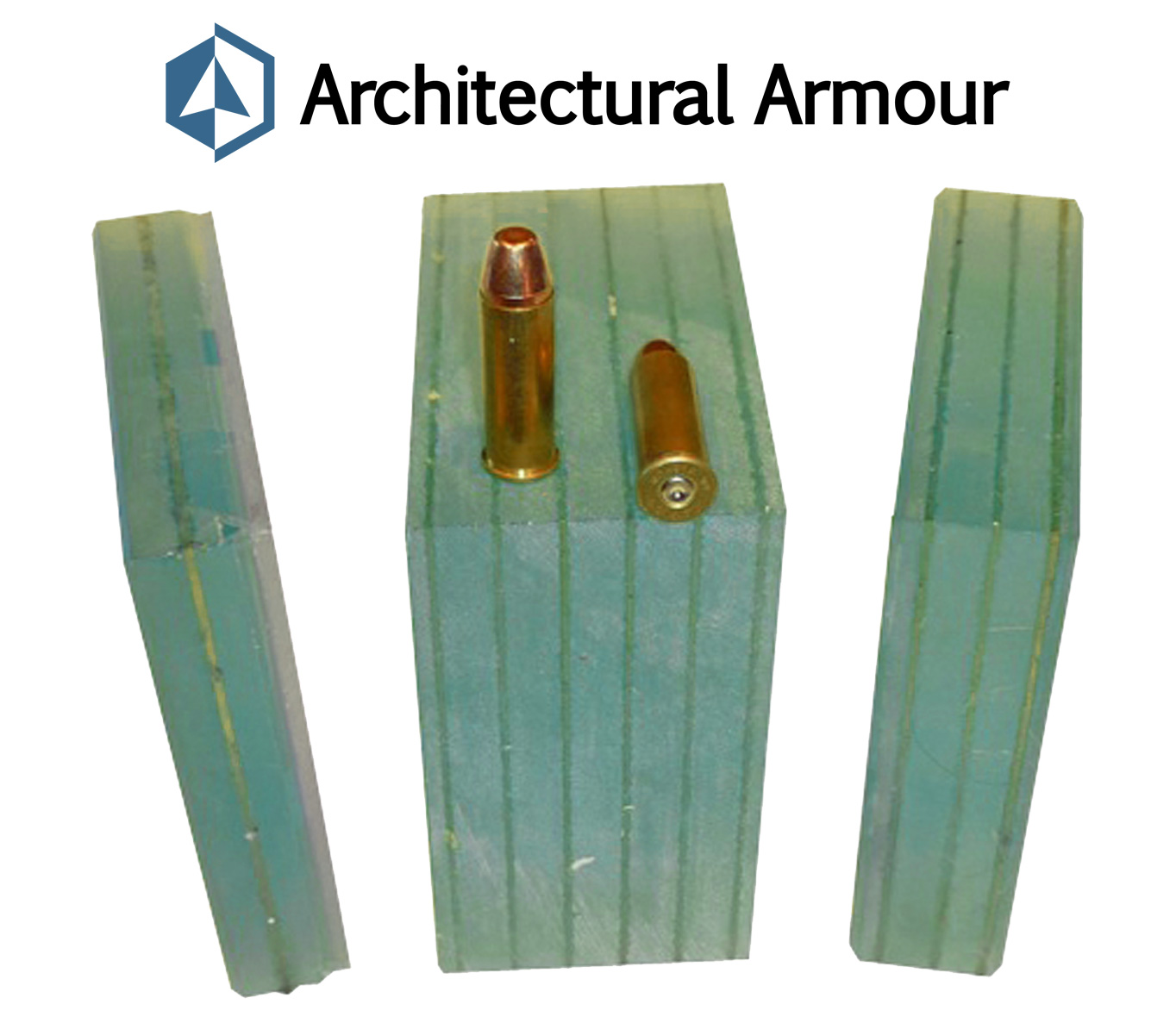 All 3 bullet compositions shown to the left are certified to BS 1063 BR4, capable of stoping multiple shots from a .44 Magnum.
The left pane is 24 mm Glass Polycarbonate and offers the same No Spall protection as the 58 mm All Glass pane shown centrally. The Polycarbonate weighs 52 kg/m2 compared to the 140kg/m2 of the all glass.
The right hand pane is an All Glass Spall Allowed product at 32mm thick weighing 75kg/m2.
Spall Allowed and No Spall are classifications in BS 1063, Low Spall is more commonly associated with BS 5051 and is often used in compositions for bullet categories G0, G1, G1S and G2S86.
The above is not an exhaustive list, and when choosing the correct bullet glass there are many other considerations which may have a bearing in the final design, such as maximum pane size available, the requirement for low iron.
Spall Allowed (SA) vs No Spall (NS)

The requirement for spall allowed / no spall is part of the European standard BS EN 1063. Spall is the material ejected from the rear surface of a bullet resistant glass when the attack face is struck by a projectile.
Spall Allowed is typically an all glass construction and is only appropriate when personnel are not within close proximity. The ejection of spall does not mean the bulletproof glass has failed, as long as the bullet or any bullet fragments have not penetrated to the secure side.
No Spall is constructed using both glass and polycarbonate which fully absorbs the impact of the projectile resulting in a zero spall option.
The test panel opposite shows a light dusting of spall on the secure side.
LOW IRON BULLET RESISTANT GLASS

Standard or regular float glass contains iron which gives it a green tint, whilst this is often not noticeable in single 4mm & 6mm pane applications, when multiple layers up to 12mm thick are laminated together to produce bullet resistant or even attack resistant glass, the level of green tint becomes significant.
To overcome this problem we have the option of using a low iron glass, which is more transparent than regular glass, allowing you to laminate multiple layers and maintain the clear nature of glass thus increasing the light transparency.
Low Iron Glass is manufactured with lower iron content than standard 'clear' glass and produces a much clearer glass structure with no green tint visible through the glass.
The EN1063 BR2 NS glass to the left indicate the clear nature of low iron over standard bullet resistant glass.
WHY BULLET RESISTANT NOT BULLETPROOF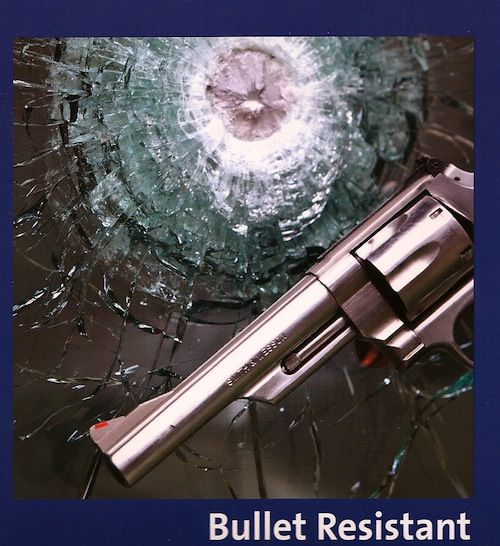 Bulletproof, Armoured, Ballistic and Bullet Resistant are all terms commonly used to describe glass designed to withstand the impact of bullets. Broadly speaking they are all describing the same thing, but technically speaking, bulletproof, armoured, ballistic are only correct as a collective term, whilst bullet resistant with a qualifying level of protection is the correct way to describe it.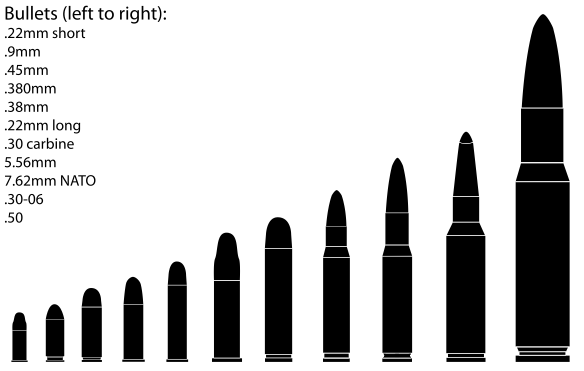 Bullets come in a number of sizes, weights and constructions, they can be made to travel at different velocities from a range of distances. A composite designed to withstand a specific bullet from small calibre weapon can be considered to be bullet resistant only to that weapon and bullet from that distance, it's not likely be bullet resistant to a larger calibre gun firing a similar construction bullet at a closer range and higher velocity.
To describe a glass composite as bullet proof would imply the ability to withstand any bullet from any calibre of weapon, therefore any bullet proof product should technically be further qualified as being bullet resistant to a specified level.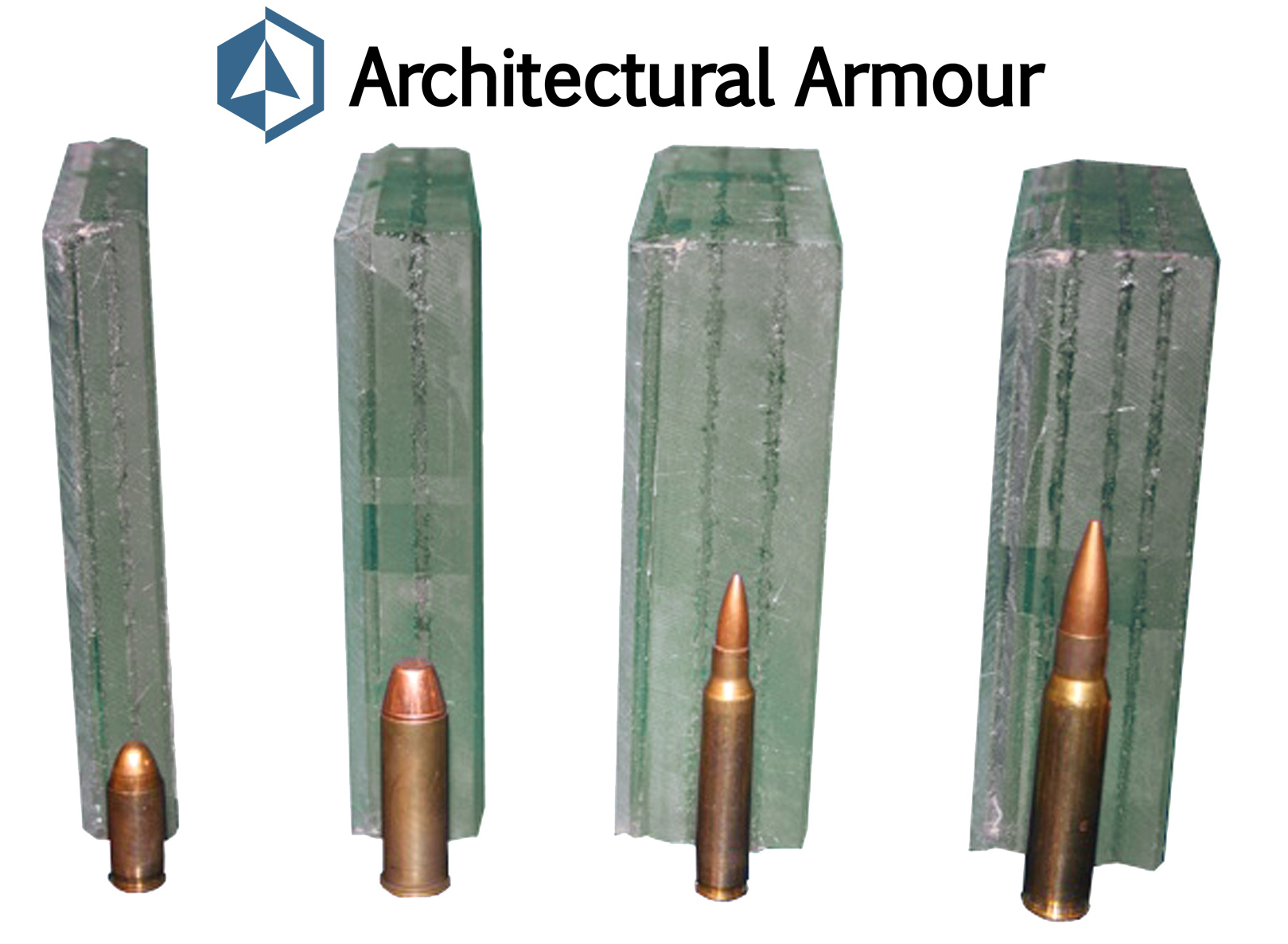 To illustrate , the adjacent picture displays bullets ranging from a 9mm parabellum through to a 7.62 x 51mm Nato Cartridge and the thicknesses of glass required to withstand them.
Put very simply the thinner glass on the left may be bulletproof for its ability to withstand a set number of 9mm Parabellum rounds but it would not stop the 7.62 x 51 mm Nato round.
Thankfully there are a number of technical standards agencies throughout the world who specify test criteria for glazing to withstand a variety of bullets travelling at specified speeds from set distances. Only when a set number of samples have passed these tests do they receive the necessary test certification. The most commonly requested glass standards are BS EN 1063, BS 5051 and NIJ 0108.01 US whilst frames and doors are covered by BS EN 1522 .
Test Standards
Below are images of the 3 major ballistic glass test standards BS EN 1063 and the US UL752 and NIJ 0108.01.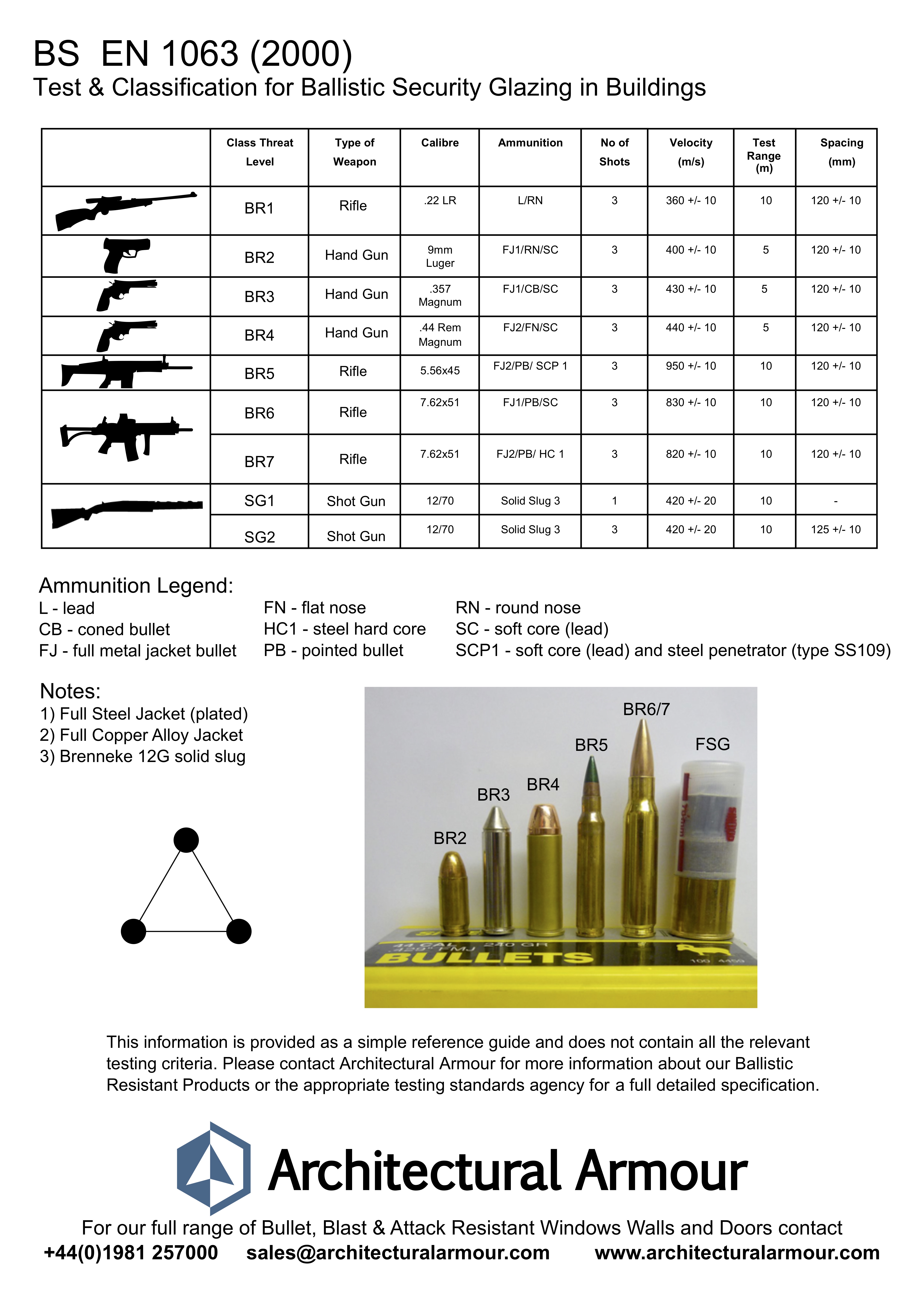 Architectural Armour offer a range of bullet resistant products to different standards, please click the relevant link below to find out more;
Stock items
Bullet Resistant Transaction Window Exterior / Interior Bullet Resistant Window with Electronic Speech , Ticket Window
Bullet Resistant Door Viewer A full range of bulletproof / Resistant Door Viewers / Peepholes / Spyholes BR4 to BR6
BR6 Guard House Transaction Window Flat fronted Ballistic Window with opening drawer for document transfer
All of the above can also be manufactured in bespoke sizes.
Bespoke items with Glass
Bullet Resistant Windows Ballistic windows to resist bullets from 9mm Luger to 7.62 AP
Security Counters and Screens Physical, Ballistic or Blast resisting counters for any application to keep staff secure
Ballistic and Blast Resistant Guard Houses Modular New Build or Upgrading existing. EN1522/3 FB2 to FB7 , NIJ 0108.01 LII to IV UL 752
Ballistic Technical Specifications
EN1063 Glass in Building - Security Glazing - Testing and Classification of Resistance Against Bullet Attack
UL752 Standard for Bullet-Resisting Equipment
BS5051 Bullet-resistant glazing - Part 1: for interior use- Part 2: for Exterior use
NIJ 0108.01 US National Institute of Justice Standard-Test and Certification for Ballistic Resistant Materials
EN1522/3 Windows, doors, shutters and blinds - Bullet resistance - Requirements and classification /Test method
Other Ballistic/Bullet Resistant Products
Bullet Boards A selection of ballistic grade walling sheets
Armoured Shipping Containers Converted & Armoured New Containers to provide ballistic refuge in case of attack
Panic Rooms Modular or Certified wall, Window and Doors
Ballistic Vents/Louvres Bespoke products designed to allow passage of air whilst offering bullet and blast protection
Armoured Steel Ballistic grade steel for incorporation into walls and other security products
Bullet Resistant Doors A range of fully tested and certified ballistic single and double doors.