Night Pay Window / Hatch
In Stock - Ready for immediate delivery
Please contact us on +44(0) 1981 257000 or mailto:info@architecturalarmour.com to discuss your project in more detail.
Architectural Armour manufacture and stock a night pay hatch for customers who wish to trade out of normal hours or in non secure environments. The Night Pay Window, like the Bullet Resistant Transaction Window (BSW) it is constructed of stainless steel and incorporates electronic speech transfer, however the NPWs' external window and drawer finish flush with the external facade, meaning it is not possible to reach through the drawer when opened.
Dimensions 700mm wide x 1180mm high x 501mm deep
Glazing EN 1063 BR4 / SG1 No Spall, EN356 P6B Manual Attack or EN1063 BR4NS/LPS1270 SR3 (subject to availability/stock)
Construction Satin Polished Stainless Steel
Communication Electronic speech transfer
Clear Pass Through 415mm wide x 155mm high x 250mm deep
The night pay window is typically used in petrol stations, pharmacies and out of hours/lone work stations.
To view or download the PDF please click here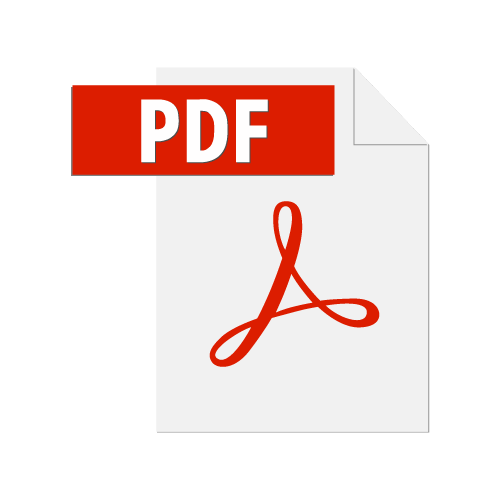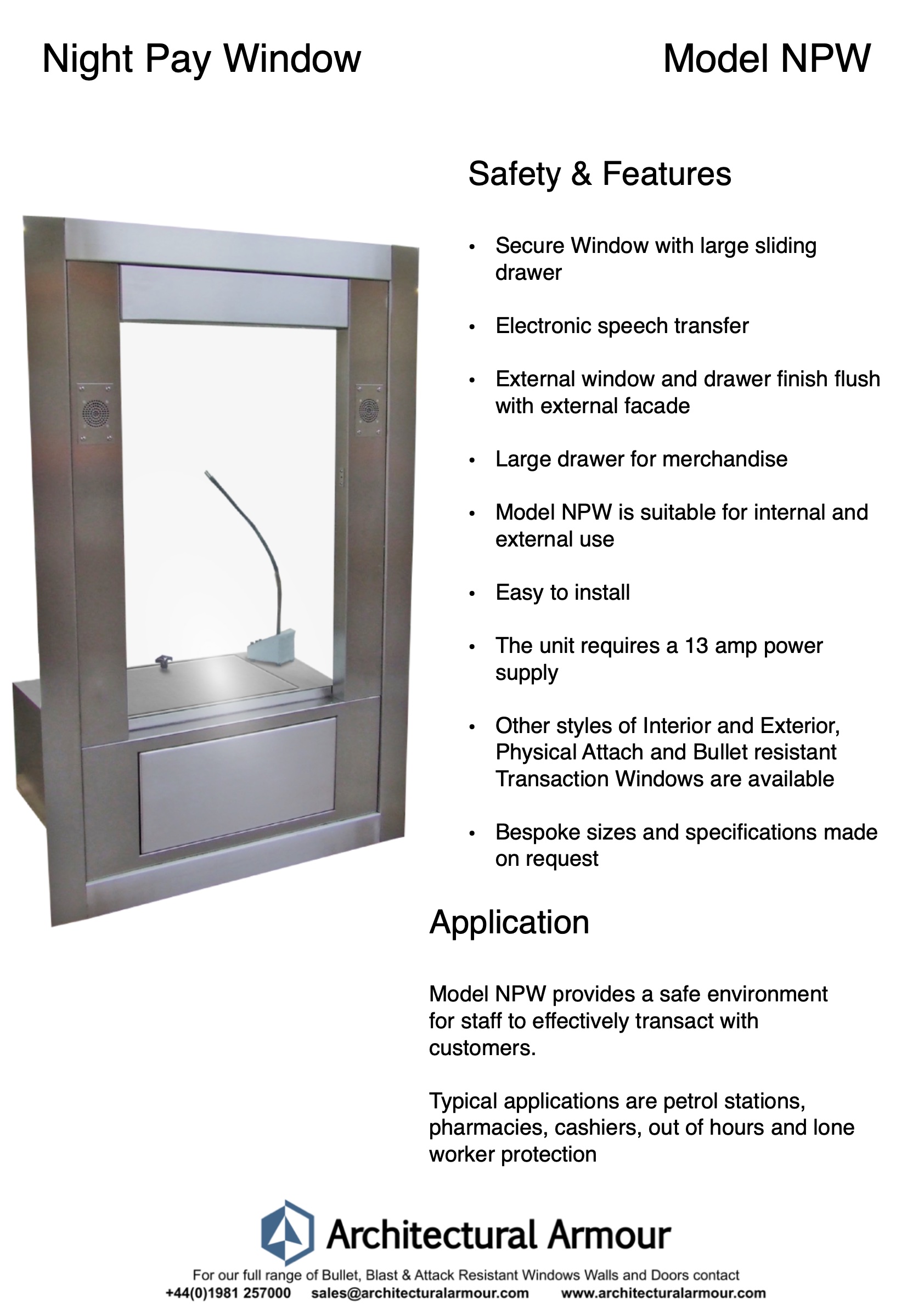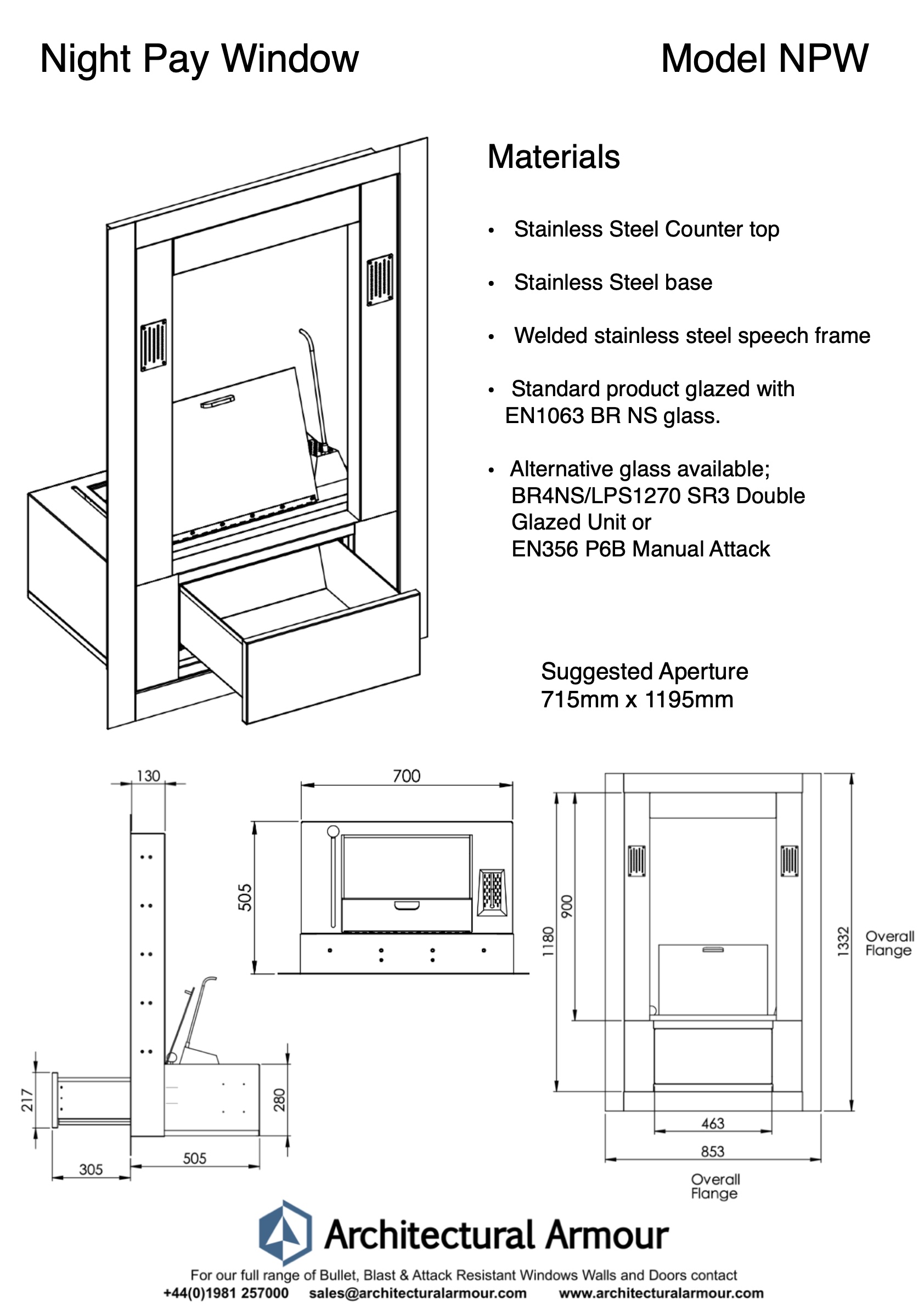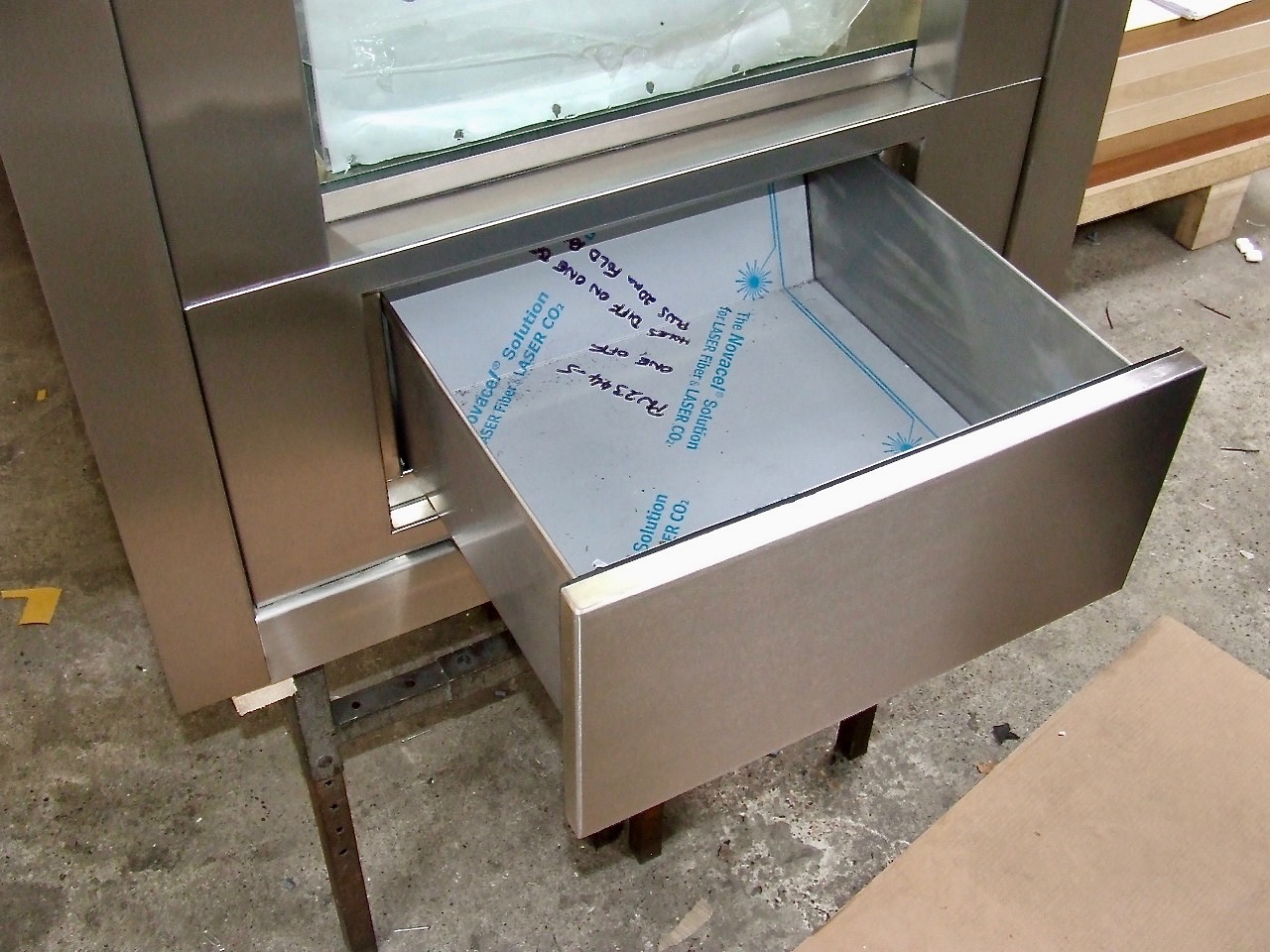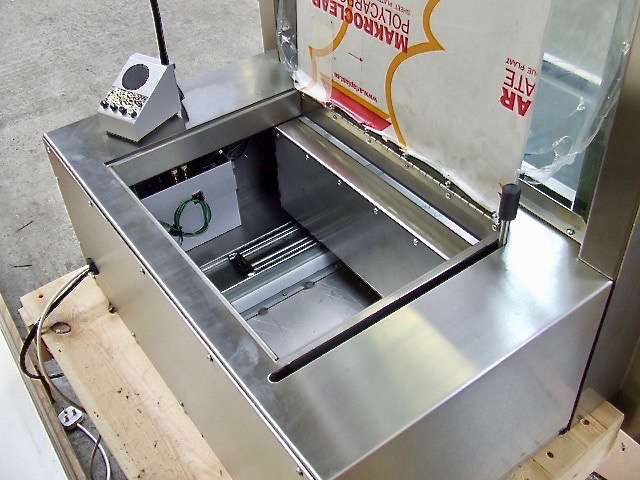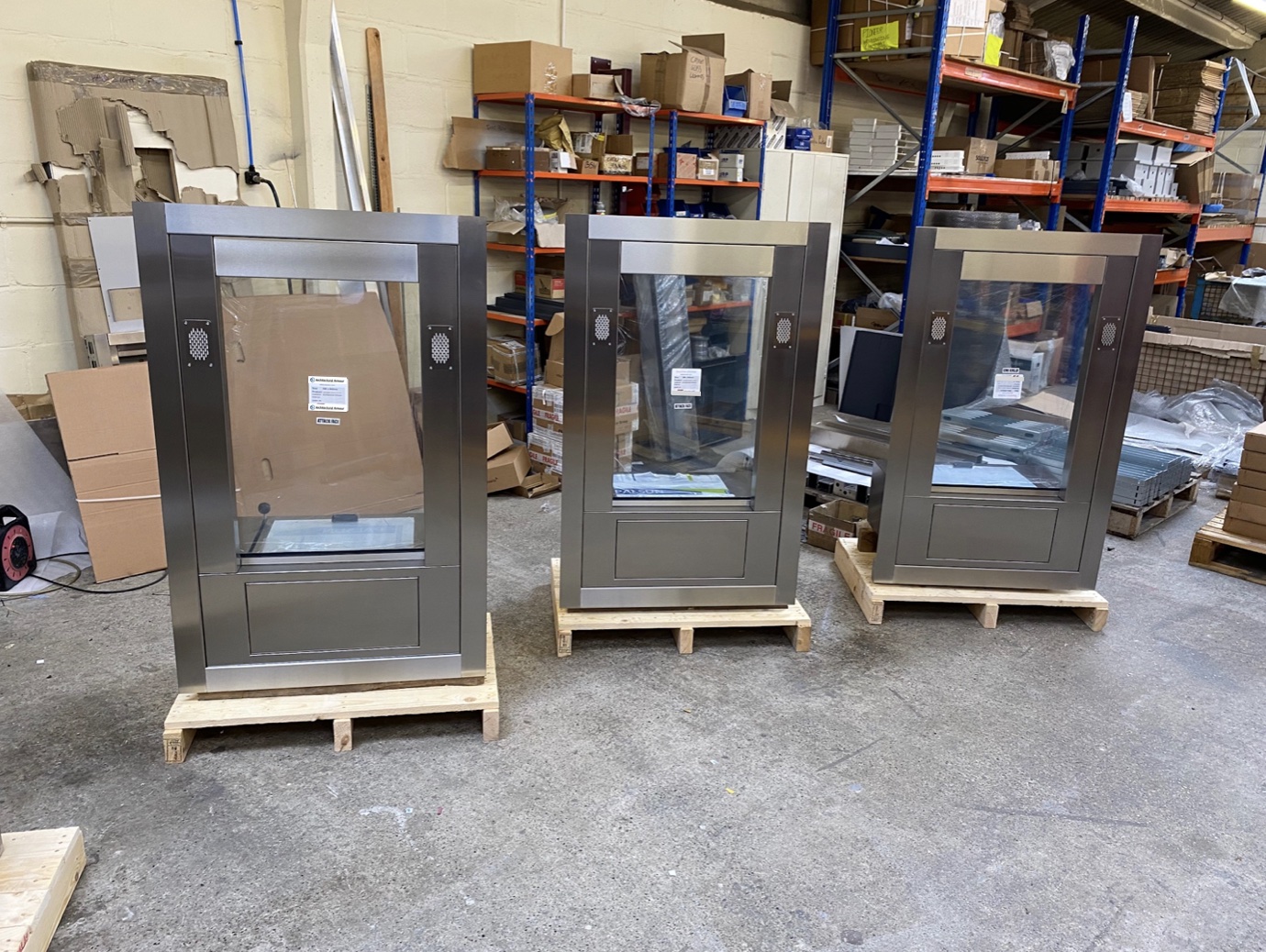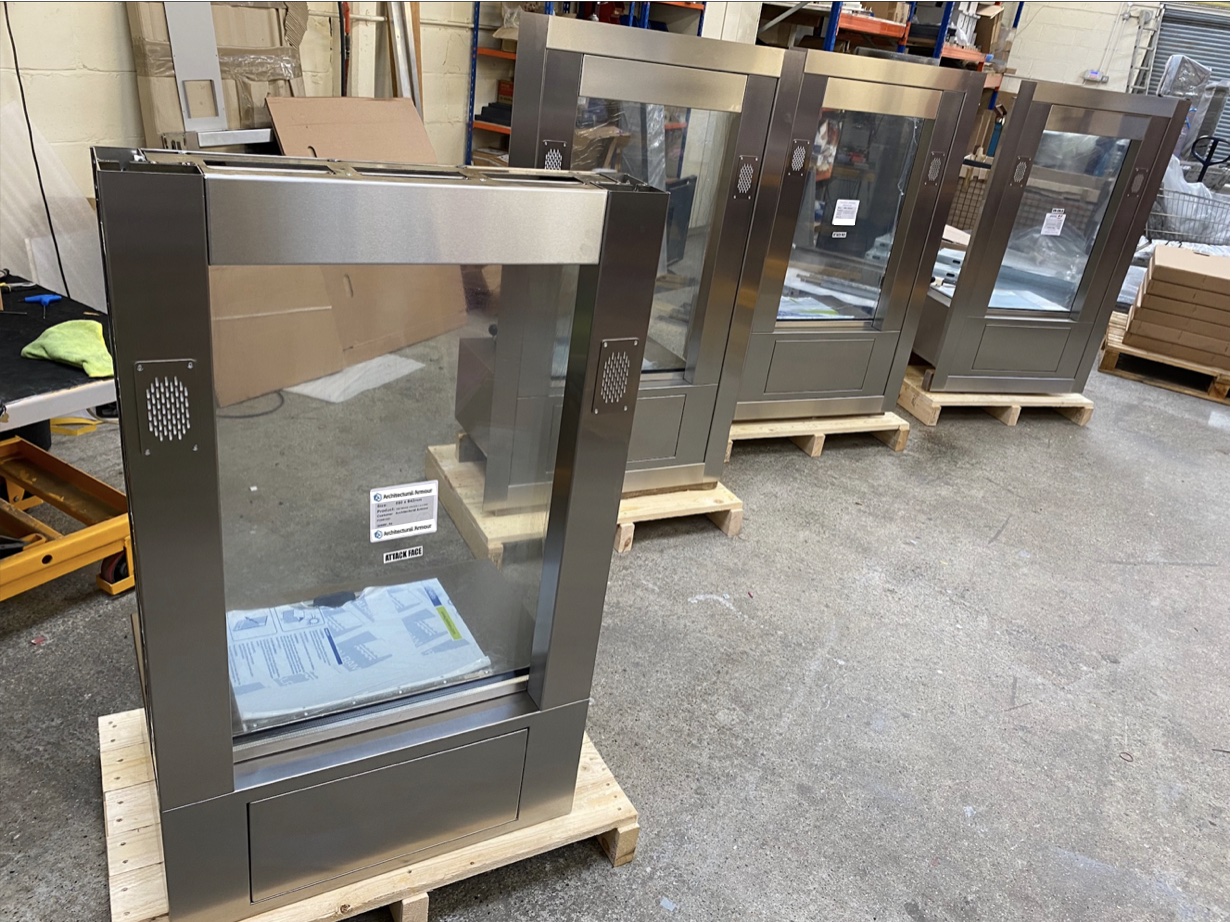 Other Transaction Windows available are
Bullet Resistant Transaction Window Exterior/Interior Bullet Resistant Window with Electronic Speech, Ticket Window
Attack Resistant Transaction Windows 2 types of versatile Physical Attack Ticket / Cashiers Window with Natural Speech Path for internal use
BR6 Guard House Transaction Window BR6 flat fronted Ballistic Window with opening drawer for document transfer.
Other Bullet Resistant/Ballistic Products
Bullet Resistant Glass Bulletpproof / Resistant Armoured glass to resist from handguns to rifles
Ballistic and Blast Guard Houses Modular New Build or Upgrading existing. EN1522/3 FB2 to FB7 , NIJ 0108.01 LII to IV UL 752
Armoured Shipping Containers Converted & Armoured New Containers to provide ballistic refuge in case of attack
Panic Rooms Modular or Certified wall, Window and Doors
Security Counters and Screens Physical, Ballistic or Blast Resistant Counters for any application to keep staff secure
Bullet Boards A selection of ballistic grade walling sheets
Ballistic Vents/Louvres Bespoke products designed to allow passage of air whilst offering bullet and blast protection
Armoured Steel Ballistic grade steel for incorporation into walls and other security products
Bullet Resistant Windows A range of ballistic rated windows manufactured to quality standard ISO 9001.
Bullet Resistant Doors A range of fully tested and certified ballistic single and double doors.
Bullet Resistant Door Viewer A full range of bulletproof / Resistant Door Viewers / Peepholes / Spyholes BR4 to BR6
Ballistic Technical Specifications
EN 1063 Glass in Building - Security Glazing - Testing and Classification of Resistance Against Bullet Attack
UL 752 Standard for Bullet-Resisting Equipment
BS 5051 Bullet-resistant glazing - Part 1: for interior use- Part 2: for Exterior use
NIJ 0108.01 US National Institute of Justice Standard-Test and Certification for Ballistic Resistant Materials
EN 1522/3 Windows, doors, shutters and blinds - Bullet resistance - Requirements and classification /Test method