LPS 1175
Requirements and testing procedures for the LPCB certification and listing of intruder resistant building components, strongpoints, security enclosures and free-standing barriers
This standard was created by LPCB and offers levels of resistance/protection when referring to intruder resistant building components, strongpoints, security enclosures and free standing barriers.
Previously the LPS 1175 classifications were represented by a single digit. Now however the revision LPS 1175: Issue 8.0 has allowed for the extension of the standard, formed of two elements that classify performance. Performance is measured in terms of;
Threat Level - represented by a Letter, A to H, corresponding with a tool kit used to evaluate the product's intruder resistance. It also notes the number of attackers
Delay - represented by a numeric value. This value corresponds with a minimum delay (in minutes) provided by the product when placed in a locked condition.
Please refer to the table below that outlines differences between LPS 1175 Issue 7 and the revised Issue 8.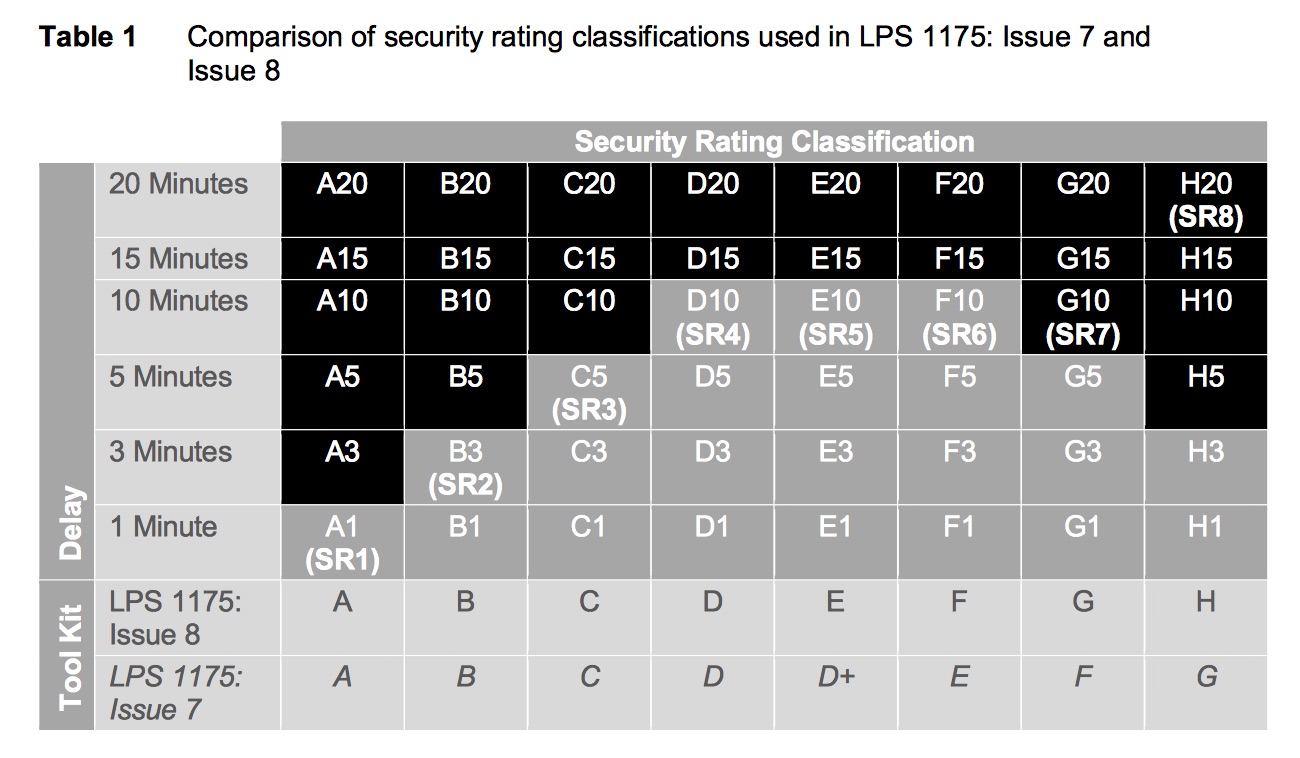 Not only are the products themselves tested but any hardware used within the product, i.e. a door leaf will not only be tested but the hinges, the lock and if it has a vision panel, the glass. These elements are tested to their corresponding standards, i.e. the glazing is tested to LPS 1270. As a door is an opening product with a frame the frame will also be tested, tested both as a combination, but it is also subject to a separate evaluation.
When a company wishes to have a product tested they will supply an agreed number of specimens. All test subjects will be complete with any hardware required, supplied and fitted. Additional pieces of hardware are supplied so they can be tested against their corresponding standard. The products are then installed by the manufacturer or their nominated installers. This is so the test is carried out in accurate conditions.
The overall objective is to confirm the security rating of the product and/or system This is achieved by carrying out a series of attack tests. This will then identify the minimum resistance to attack the product can provide.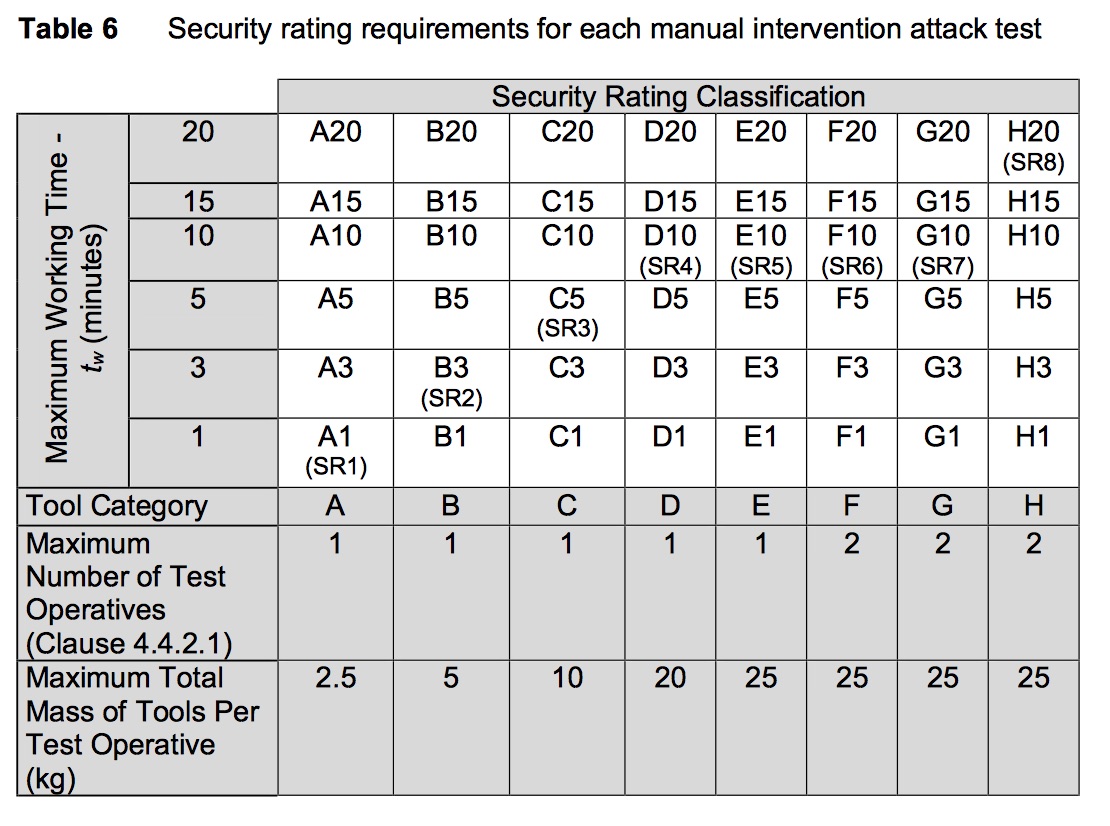 These tests are carried out using different tool categories, dependant on the level of resistance/protection. For a better understanding, please refer to the Tool Categories page.
The security rating is determined in the minimum and optimum locked conditions using tools selected from the categories. In order for the product to achieve an LPS 1175 rating it must achieve the lowest security rating i.e. the number 1, in both locked conditions.
With each individual attack carried out a new tool kit may be selected. The attack tests continue until either the objective is achieved, the working time exceeds the defined duration, the total test duration exceeds the maximum time or the assessors decide the attack is ineffective for classification.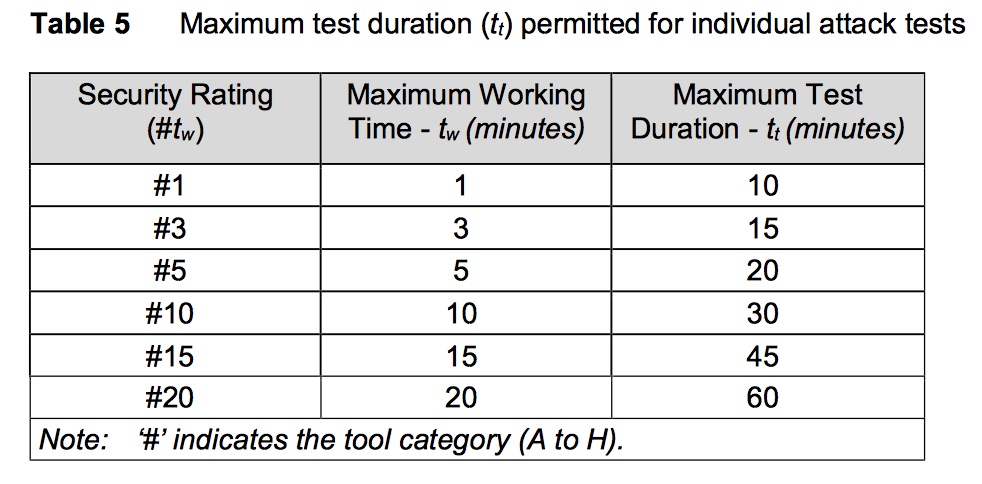 Architectural Armour offer a range of LPS 1175 rated attack resistant security doors, please review the products that may be required in your application. If you wish to discuss your project in more detail or speak to a member of the team please contact us on +44(0) 1981 257000 or mailto:info@architecturalarmour.com
Other Attack Specifications
EN 1627 Pedestrian door-sets, windows, curtain walling, grilles and shutters - Burglar resistance - Requirements and classification
EN 356 Glass in building - Security glazing - Testing and classification of resistance against manual attack.
Ballistic Technical Specifications
EN 1063 Glass in Building - Security Glazing - Testing and Classification of Resistance Against Bullet Attack
UL 752 Standard for Bullet-Resisting Equipment
BS 5051 Bullet-resistant glazing - Part 1: for interior use- Part 2: for Exterior use
NIJ 0108.01 US National Institute of Justice Standard-Test and Certification for Ballistic Resistant Materials
EN 1522/3 Windows, doors, shutters and blinds - Bullet resistance - Requirements and classification /Test method
Blast Specifications
GSA-TS01:2003 Standard Test Method for Glazing and Window Systems Subject to Dynamic Overpressure Loadings
EN 13541 Glass in building - Security glazing - Testing and classification of resistance against explosion pressure
EN 13123-2 Windows, doors and shutters - Explosion resistance - Requirements and classification
ISO 16933:2007 Glass in Building -- Explosion-Resistant Security Glazing -- Test & Classification for Arena Air-Blast Loading
Fire Specifications
UL 10C Positive Fire Pressure Tests of Door Assemblies
EN 1363-1 Fire resistance tests –Part 1: General Requirements
EN 1364-1 Fire resistance tests for non-load-bearing elements – Part 1: Walls
BS 476 Part 22 Fire tests on building materials and structures
EN 1634-1 Fire resistance and smoke control tests for door and shutter assemblies, openable windows and elements of building hardware
This is an extract not a full report and Architectural Armour Ltd accepts no liability for any loss, direct, indirect or consequential damage incurred by using this information, to the fullest extent permitted by law. You should make your own judgement as regards use of this document and seek out the full test standards.