EN 356
Glass in building - Security glazing - Testing and classification of resistance against manual attack.
Alongside our Bullet Resistant products Architectural Armour can offer an alternative; Security Glass, Windows and other Products. The BS EN356 standard specifies requirements and test methods for security glazing designed to resist actions of forced or manual attack or attack resistant.
To view the products that can incorporate EN 356, manual attack resistant glass, see the below links.
Stock items
Attack Resistant Transaction Windows - 2 types of versatile Physical Attack Ticket / Cashiers Window with Natural Speech Path for internal use
All of the above can also be manufactured in bespoke sizes.
Bespoke items
Security Counters and Screens - Physical, Ballistic or Blast Resistant Counters for any application to keep staff secure
Attack/Intruder Resistant Windows - EN356 rated attack resistant windows protecting against planned or surprise attacks.
Attack/Intruder Resistant Doors - LPS1175 rated doors for multi-purposes. Manufactured bespoke to customers requirements.
Lower Resistance Level
The test standards has two test parameters; higher and lower resistance. The lower resistance sees glass undergo impact from steel balls dropped from differing heights in a triangular formation. This test covers the glass rated from P1A to P5A. P1A the balls are dropped from the lowest height, P5A 3 sets of 3 balls are dropped from a height of 9 metres.
| | | | | |
| --- | --- | --- | --- | --- |
| BS EN356 | Drop Height (mm) | Number of Strikes | Impact Energy Per Stroke | Glass Thickness (mm) |
| P1A | 1500 | 3 in a Triangle | 62J | 6.8 |
| P2A | 3000 | 3 in a Triangle | 123J | 8.8 |
| P3A | 6000 | 3 in a Triangle | 247J | 9.1 |
| P4A | 9000 | 3 in a Triangle | 370J | 9.5 |
| P5A | 9000 | 3 x 3 in a Triangle | 370J | 10.3 |
Higher Resistance Level
The higher resistance level is tested with multiple strikes of a hammer and axe. The glass is held in a frame and subjected to strikes in a certain area by a mechanical hammer and axe ensuring the force is controlled throughout. This standard covers P6B to P8B. These products are available in laminated all glass constructions or glass/polycarbonate/glass constructions giving you a range of thicknesses to choose from.
| | | | |
| --- | --- | --- | --- |
| BS EN356 | Sledgehammer & Axe Minimum Number of Blows Required | Construction | Glass Thickness (mm) |
| P6B | 31 | Glass/PVB | 15 |
| | | Glass/Poly/Glass | 10 |
| P7B | 51 | Glass/PVB | 28 |
| | | Glass/Poly/Glass | 16 |
| P8B | 71 | Glass/PVB | 26 |
| | | Glass/Poly/Glass | 18 |
The product can be provided as single laminated pane or incorporated into double glazed units (DGUs/IGUs) for use internally and externally. They can offer an extra level of protection in domestic or commercial properties.
The EN356 glass is commonly used in Jewellery store applications, for use as front of store or display cases/windows. The glass prevents smash and grab attempts from being successful; delaying the intruders attack giving the police vital minutes to respond.
We also utilise this glass in our SW1&2 Transaction Windows and our external transaction window, similar to a BSW but incorporating EN356 glazing instead.
For more information or a quotation please contact our offices on 01981 257000 or email info@architecturalarmour.com.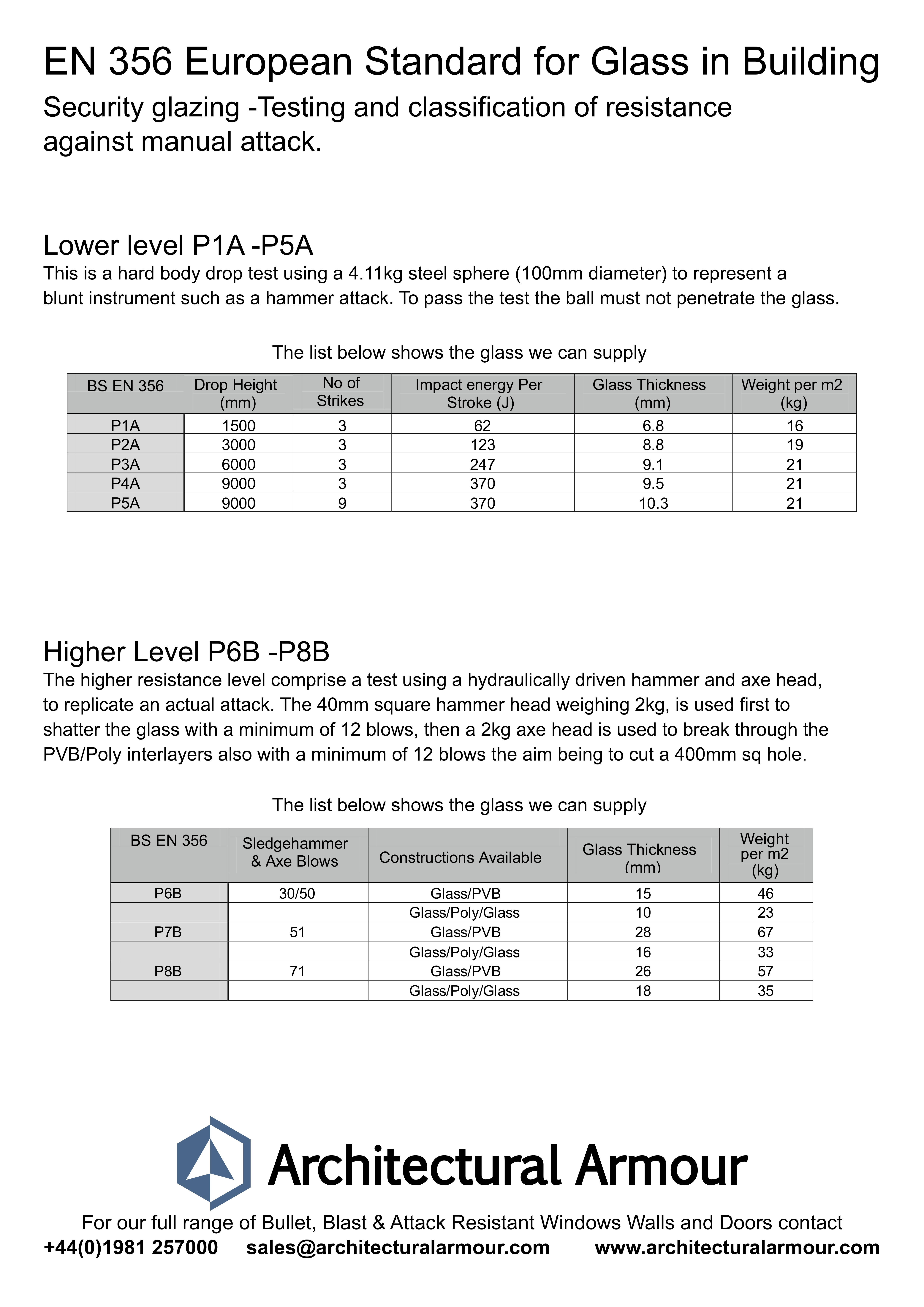 To view or download the EN356 Data Sheet please click here

For our full range of technical specifications please click on relevant headings below;
Other Attack Specifications
EN 1627 Pedestrian door-sets, windows, curtain walling, grilles and shutters - Burglar resistance - Requirements and classification
LPS 1270 Intruder Resistant Security Glazing - Requirements & Testing Procedures
LPS 1175 Requirements and testing procedures for the LPCB certification and listing of intruder resistant building components, strongpoints, security enclosures and free-standing barriers
Ballistic Technical Specifications
EN 1063 Glass in Building - Security Glazing - Testing and Classification of Resistance Against Bullet Attack
UL 752 Standard for Bullet-Resisting Equipment
BS 5051 Bullet-resistant glazing - Part 1: for interior use- Part 2: for Exterior use
NIJ 0108.01 US National Institute of Justice Standard-Test and Certification for Ballistic Resistant Materials
EN 1522/3 Windows, doors, shutters and blinds - Bullet resistance - Requirements and classification /Test method
Blast Specifications
GSA-TS01:2003 Standard Test Method for Glazing and Window Systems Subject to Dynamic Overpressure Loadings
EN 13541 Glass in building - Security glazing - Testing and classification of resistance against explosion pressure
EN 13123-2 Windows, doors and shutters - Explosion resistance - Requirements and classification
ISO 16933:2007 Glass in Building -- Explosion-Resistant Security Glazing -- Test & Classification for Arena Air-Blast Loading
Fire Specifications
UL 10C Positive Fire Pressure Tests of Door Assemblies
EN 1363-1 Fire resistance tests –Part 1: General Requirements
EN 1364-1 Fire resistance tests for non-load-bearing elements – Part 1: Walls
BS 476 Part 22 Fire tests on building materials and structures
EN 1634-1 Fire resistance and smoke control tests for door and shutter assemblies, openable windows and elements of building hardware
This is an extract not a full report and Architectural Armour Ltd accepts no liability for any loss, direct, indirect or consequential damage incurred by using this information, to the fullest extent permitted by law. You should make your own judgement as regards use of this document and seek out the full test standards.